Central one-bedroom apartments cost on average $346 a week a two-bedroom flat $463, research shows.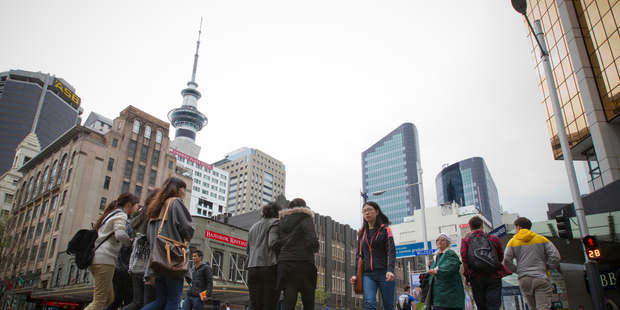 The return of about 50,000 tertiary students to Auckland universities this month is thought to have been responsible for pushing up city rents.
Crockers Market Research showed rises for smaller dwellings in Grafton, Newton and Parnell.
More than 32,000 students this month started the year's first semester at the University of Auckland and around 20,000 students returned to AUT's city campus.
Data this week from the 2013 Census showed more New Zealanders aged 15-plus now live in rental, not owner-occupied, residences as New Zealand switches from being a country of homeowners to tenants.
Crockers' marketing manager, Kim Sinclair, said the central city was always popular with the tertiary sector.
"The students came back to Auckland and the area we know they live in is around the city centre," she said, and the one- and two-bedroom places there were probably apartments.
From the six months to February 2013 to the six months to February this year, one-bedroom rents rose $9 a week, from $337 to $346, meaning tenants are paying $1300 a month, and two-bedroom rents rose $23 a week, from $440 to $463, or $1852 a month.
Rent changes charted by Crockers are based on Ministry of Business, Innovation and Employment data on bonds lodged by landlords under the residential tenancy law.
Ms Sinclair said landlords took 270 bonds for one-bedroom city-centre residences last month, 211 bonds on two-bedroom places and 43 bonds on three-bedroom dwellings.
Linda Williams, of Barfoot & Thompson's city branch, said Asian and New Zealand students were quicker to arrange rentals this year.
"They came over earlier, in January, which is a new trend because in other years they've waited and they miss out on apartments," she said.
One- and two-bedroom city rents rose about $20 a week, based on letting 120 properties in January and February. About 100 places were apartments, including in Zest on Nelson St, Imperial Gardens at 135 Hobson St and City Gardens on Albert St.
Kiri Barfoot, a Barfoot director, said tenants in the 11,000 properties her firm rents out were paying more, and not just in the city area.
"Henderson rents were going up around $50 a week in the last six months because of demand," she said.
"January was a record for us," Ms Barfoot said, adding that average rents then rose from $465 a week last January to $487 a week this January.