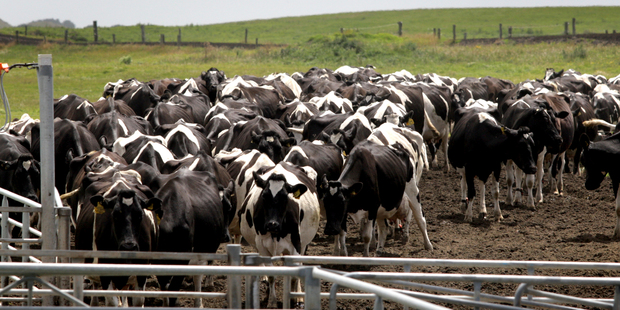 Chinese officials will today complete an eight-day inspection programme of local dairy processing and infant formula production facilities, but it remains unclear how New Zealand's manufacturing systems will be rated in the auditors' final report.
Ministry for Primary Industries deputy director general Scott Gallacher said the audit reporting was yet to be completed.
"We await the opportunity to receive feedback from the auditors when the audit has finished and the auditors provide their report," Gallacher said.
A ministry spokesman said it was not known when the report would be completed.
The audit, which is unrelated to Fonterra's 2013 botulism false alarm, comes ahead of a new requirement that all infant formula makers exporting to China be registered with the Chinese Government by May 1.
Facilities operated by seven New Zealand dairy and infant formula makers were visited by four officials from China's Certification and Accreditation Administration, including Fonterra, Westland Milk Products, Synlait and Sutton Group.
It is a systems audit, meaning only a sample selection of manufacturing operations will be inspected to provide an overview of the entire industry.
One laboratory and a farm were also audited and Gallacher said the businesses visited provided "a good representation of New Zealand's dairy production process".
Three Fonterra sites - including its Lichfield cheese making plant in the Waikato and Canpac infant formula packing facility in Hamilton - were audited on Wednesday and Thursday last week.
Hokitika-based cooperative Westland Milk Products was visited on Sunday, while Canterbury dairy processor Synlait had its audit yesterday.
Mark Leslie, director of quality assurance and logistics for Fonterra's NZ Milk Products division, said the audit provided the company with a chance to "showcase those operations" to the Chinese inspectors.
"At this point I can't then go to the next step and say what the audit has shown us because the audit close-outs haven't occurred," Leslie said. "That'll occur at some point when the audits finish."
Asked if the auditors raised any specific concerns during their visit, he said: "No, they just went right through the operations and sort of dip-tested different parts of it to understand the level of detail below that."
Leslie pointed out that audits - by regulatory authorities and customers - were common in the industry.
However, this is the first time the Chinese Government has audited New Zealand dairy processing facilities and China is by far the biggest consumer of this country's agricultural products.
James Shortall, spokesman for Auckland infant formula contract manufacturer Sutton Group, said the company's facility in Auckland was audited, as well as Gardians, its joint venture spray drying plant in Otago.
"The auditors were incredibly professional and it went well," he said.
Synlait marketing manager Michael Wan confirmed the firm had been audited yesterday, but said the company was not in a position to make any comment about the visit.
China's booming infant formula market is going through a period massive regulatory change as Beijing pushes through a raft of new requirements aimed at restoring Chinese consumers' confidence in baby milk products.
A series of consumer scares - including the 2008 melamine scandal, which left six babies dead and thousands more sick after the toxic chemical was illegally added to dairy products - means food safety has become one of the most pressing issues for the Chinese Government.
While inspections are commonplace in the dairy industry, anxiety about the Chinese audit was highlighted in the notes of a meeting held last month between New Zealand manufacturers and the Ministry for Primary Industries, obtained by the Herald.
According to the notes, Howard Staveley, the ministry's infant formula programme manager, highlighted a "number of significant uncertainties" around the registration process, including whether restrictions would be placed on the number of Kiwi infant formula brands eligible for export into the Chinese market and whether a ban on contract manufacturing in China would also apply to imports.
Most of the New Zealand infant formula brands exported to China are produced at contract manufacturing facilities.
In a question-and-answer session, one company asked the ministry whether it was true that three out of seven French plants failed their Chinese audits, but the ministry was unable to confirm that. The ministry said it did not want manufacturers to fail the audits, as there were "some risks" and it was unclear how the Chinese would deal with factory failures.