Dairy giant says improvements being made following botulism scare.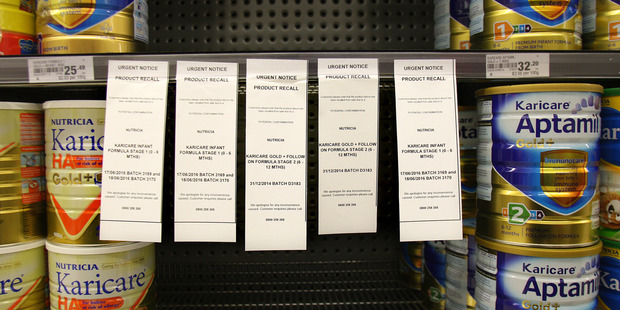 Fonterra said it had accepted charges laid against it by the Ministry for Primary Industries over events that led to last year's market recall of whey protein concentrate.
Ministry for Primary Industries (MPI) filed four charges against Fonterra in the Wellington District Court relating to breaches of the Animal Products Act after the recall, which turned out to be a false alarm after the product was earlier linked to botulism. Contravention of the act can make corporates liable for fines of up to $500,000.
Fonterra's managing director people, culture and strategy Maury Leyland said Fonterra had co-operated fully with MPI throughout its investigation, and accepted responsibility for the allegations made.
"We have accepted all four charges, which are consistent with the findings of our operational review, and the independent board inquiry," Leyland said. "We have previously detailed issues relating to the decision to reprocess the original WPC80 [whey protein], and being slow about escalating information which are reflected in the charges laid by MPI.
"The WPC80 event caused us to examine in detail what happened, why it happened, and what we must do to minimise the risk of it ever happening again."
Leyland said Fonterra was making good progress in implementing improvements identified in the review.
"We are also working with the Government to progress all the recommendations of its review of New Zealand's dairy food safety regulatory framework, undertaken last year.
"Our customers and consumers need to know that New Zealand's food quality and safety regulations are being robustly applied by food manufacturers and enforced by New Zealand authorities."
Food safety minister Nikki Kaye said it was inappropriate to comment as the matter was before the court. "It is important to note that the compliance investigation has been run by the regulator [MPI], and has been independent from ministers."
Prime Minister John Key and Fonterra chairman John Wilson are scheduled to travel on Monday to China, where consumers were spooked by the botulism false alarm, to explain the situation to Chinese authorities.
Units in the Fonterra shareholders fund, which trade on the NZX, were last quoted at $5.85 - unchanged from Wednesday's closing level.
Taking blame
The charges are:
* Processing dairy product not in accordance with its risk management programme.
* Exporting dairy product that failed to meet relevant animal product standards.
* Failing to notify its verifier of significant concerns that dairy product had not been processed in accordance with its risk management programme.
* Failing to notify the director general as soon as possible that exported dairy product was not fit for intended purpose.
- APNZ