Third-generation family business sees plenty of potential in Asian markets.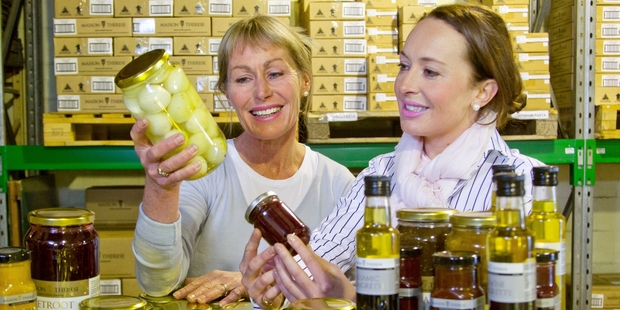 Therese Mooren brought Dutch-style preserves to New Zealand tastebuds; 50 years on, her granddaughter is taking those flavours to the world.
Since she joined the family business five years ago, 27-year-old Emma Bradshaw has been at the forefront of a push to put Mooren's namesake brand, Maison Therese, on overseas store shelves.
Fresh from university with a marketing and design-focused degree, she joined her mother, Monique Bradshaw, as the third generation to work in the family food business.
"I pretty much looked at Maison Therese as being an adventure," says Emma.
Her grandmother began in 1965, bottling pickled onions and gherkins to traditional recipes after preserves she had prepared for a school gala were snapped up before the big day.
The company originally supplied hotels, where Maison Therese gherkins could be found fanned out over potato salads on restaurant buffets, but evolving food trends have meant changes to its products.
Monique was in her late teens when she created a tomato relish recipe suitable for large volumes.
Now the range has expanded to about 40 products in five sizes, for food service businesses, supermarkets, specialty food stores, rural farm supply outlets and corporate gift hampers.
The tomato relish is still one of the company's top sellers, both here and in Maison Therese's new overseas markets in Australia and Asia, alongside beetroot relish, balsamic onion relish and bell pepper relish.
Emma says although there is still growth to be had in the New Zealand market, her focus is on opening up overseas opportunities, particularly in Asia.
"In terms of growth and volume, what we've experienced in Asia has been so much more in such a short time compared to Australia," she says.
Getting Maison Therese on Asian plates has meant a lot of travel for Emma, but she says it's the only way to get a foothold in the market.
"I always say to anyone who is thinking about getting into the export market, you need to spend the money and go over there before you even start sending product because you need to know and relate to what they're talking about."
As well as packing jars of Maison Therese products to tempt overseas palates at food shows, she also spends time tracking down good distributors to represent the brand in each market.
In Singapore she already had a distributor lined up - a local woman who had worked in the New Zealand food industry - when she dished up Maison Therese at a food show there.
"I think a lot of businesses are too scared to spend the money. You need to spend money to make money."
By the end of the year Emma hopes to add Hong Kong, Shanghai and Japan to Australia, Malaysia and Singapore as overseas destinations for Maison Therese products, with the aim of having at least 50 per cent of the company's production exported within five years.
"You've got to find the perfect balance between patience and persistence because it's slow.
"Export just doesn't happen overnight."
While Emma is on the road selling Maison Therese to the world, mum Monique is back home in Hawkes Bay managing production.
Monique was just a baby when the business began and has grown up working for Maison Therese.
Her involvement stepped up with the sudden death of her older brother more than a decade ago, which saw her juggling the business with managing a young family of four children.
With the support of her husband, Richard, she managed through a difficult period to diversify products and sales outlets.
"Twelve years later even out of a really, really difficult, terrible, traumatic time, good things do come out of it," she says.
"For me, I would probably have never got to know my own abilities without having gone through that experience."
Monique worked hard at creating a resilient business with systems and food safety programmes in place.
"I think the other thing too that has really worked for us is that we always remained a premium product. We never compromised the quality."
"The products are still made the same as they were years ago."
Although Therese is no longer involved in the business on a day-to-day basis, she still pops in regularly.
Monique says having come from post-war Europe with nothing, Therese is proud to see her granddaughter so involved in the business and to have created an opportunity to work for themselves, something family back in Europe haven't achieved.