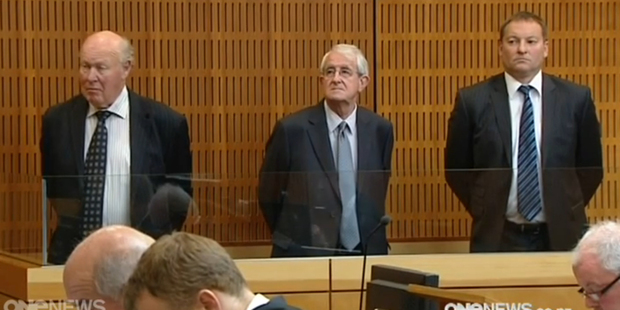 A "culture of obfuscation" prevailed at South Canterbury Finance before its $1.6 billion Government bailout, where directors talked about dealing with "smoke and mirrors" and "half truths", a court heard today.
Three former heads of the South Island lending firm "went beyond cavalier" and contributed directly to its collapse, the Crown alleged on the opening day of what has been described as New Zealand's biggest ever fraud case.
South Canterbury Finance (SCF) took an "unusual ... improper" approach to related-party transactions, the Crown contests.
Former SCF chief executive Lachie McLeod, 50, and two of the company's former directors, lawyer Edward Sullivan, 72, and accountant Robert White, 70, deny a $1.6 billion fraud.
They pleaded not guilty at the start of their High Court trial in Timaru, which is set down for three to four months.
Long-time SCF chairman Timaru financier Allan Hubbard died in a September 2011 car crash, aged 83.
In the Crown's opening submissions, Colin Carruthers QC outlined the case against the trio.
He said the directors "evaded or ignored" controls of how the company should operate.
"The hallmark was related party lending highly structured to hide it," Mr Carruthers said.
They "moved beyond cavalier and contributed directly" to the collapse on August 31, 2010.
Because of the company's participation in the Crown retail deposit guarantee scheme, 35,000 investors were bailed out by the taxpayer to the tune of $1.6 billion.
The court was shown a February 2008 email chain between Mr McLeod and accountant Terry Hutton, which said: "Obviously trying to hide my loan as a related party and now need to flesh out fully ... (this) will avoid my name being directly on the prospectus which will be wise in this environment."
SCF failed to keep proper accounting records under its legal obligations and industry rules, Mr Carruthers said, claiming it amounted to serious and widespread offending.
"There was a culture of obfuscation and dissembling at South Canterbury," Mr Carruthers said.
In emails between White and Sullivan, they talk about finance agreements with Mr Hubbard as "more about hiding a pea under a thimble than anything else"and "an act of pass the parcel".
In one email from White to Sullivan, he writes: "The auditors are on the war path re related party loans and are clearly unwilling to any longer put up with the half-truths re loan status that they have endured in the past."
During a long discussion in 2009 White recounts to Sullivan issues getting to grips with Hubbard's accounts for one transaction, where he says: "I spent all afternoon trying to get rid of the smoke and mirrors in order to try and understand what the shape of the transaction was, and have now thrown in the towel."
In another email penned by White, he talked about an obvious "reluctance from the top to address the reality of an impaired loan in terms of accounting conventions".
All directors' meetings minutes have been provided to the court by the Crown, which Mr Carruthers says amounts to the defendants having been, in a general sense, "kept up to date and were informed of all the issues".
The trial, before Justice Paul Heath alone, is a document-heavy case, with the Crown relying heavily on the evidence of paperwork.
A total of 40 Crown witnesses, including former SCF employees, people involved in transactions with various companies, and forensic or expert witnesses, are expected to be called.
John Park, Treasury's manager of the Crown retail deposit guarantee scheme, would be a key witness in establishing how it was misled by SCF's applications into the scheme.
The start of the trial for an hour this morning over concerns that a comment made last week by the boss of the Serious Fraud Office could have led to a perception that Justice Heath was based towards the Crown.
SFO director Julie Read referred to Justice Heath as "our judge" while speaking at the 13th Annual Corporate Insolvency and Restructuring Conference in Auckland last week.
Lawyers for the three accused, Pip Hall QC, Bruce Squire QC, and Jonathan Eaton QC wanted a delay to the start of the trial in order to look deeper into the issue and to see if the judge should consider stepping down from presiding over the trial.
Justice Heath said it was "extraordinary" to think anyone would possibly think he would be anything other than impartial.
He declined to recuse himself, saying proceedings should continue. And if defence counsel wish, they will be given time to formally pursue the matter further next week.
The trial continues, with the Crown's opening address expected to last all week.
Timeline
• November 2008: SCF enters government's retail deposit guarantee scheme.
• June 2010: Allan Hubbard stands down as chairman.
• August 2010: SCF goes into receivership. Government makes $1.6 billion bail out.
• September 2, 2011: Hubbard was "person of interest"in SFO probe into SCF when he dies in head-on car crash near Oamaru.
• December 2011: SFO lays charges against Lachie McLeod, Edward Sullivan, Robert White, Graeme Brown and Terrence Hutton.
• Aug-Oct 2013: Charges against Brown and Hutton dropped.
• March 12, 2014: Trial begins at High Court in Timaru. Crown begins its opening address, which is due to conclude on Friday.
- APNZ