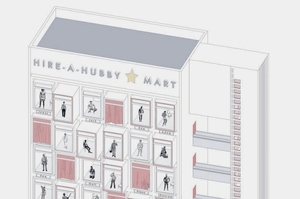 Architecture students have imagined how Auckland will look sporting a new super-brothel, and Wellington's future if sea levels rise.
The NZ Institute of Architects said the fifth or final-year students from the University of Auckland, Victoria University and Unitec had entered a competition for a design award and a $5000 prize.
They each designed and presented projects which draw on today's realities and issues.
The winner was a tongue-in-cheek take on the Chow brothers' proposal for the multi-level building opposite SkyCity. Student Raphaela Rose from the University of Auckland's School of Architecture and Planning drew Rapunzel's Titillating Observation Tower as a parody of the proposed brothel. In a separate building, men are shown waiting to be chosen, standing in a five-level building called Hire-A-Hubby Mart.
"Architecture is cleverly and gainfully employed as a satirical tool in this mischievous project," said the institute.
"The scenario calls for the city blocks containing the SkyTower, casino and proposed new super-brothel to be surrounded by a fun park themed by recent local sex scandals. This achieves the rare feat of combining architecture, parody and political and sexual folly into a stylish, sparely drawn package."
The project is called "Sex(uality) and the City: Counteracting the Cock-ups of Auckland's Main Strip".
In another project called "City of Flux", Victoria University student Tara-Lee Carden showed a nightmarish vision of Wellingtonians in the next century. Inhabitants are depicted in a cavernous subterranean structure, navigating canals, coping with climate change and rising sea levels. Moats, canals, locks and aqueducts are envisaged in that scheme.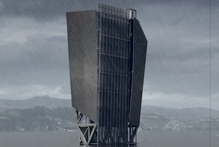 Victoria's Hayden Grindell designed a massive "unglamorous" data centre tower rising in the middle of the city's harbour, lashed by rain.
Unitec's Michael Holehouse designed an access way to the Waikato's Whangamarino Wetland while Daniel Smith, also of Unitec, designed public buildings for a Cambodian village, Chhuk, including a Mercy School.
Auckland's Alexander (Sacha) Milojevic was highly commended for a project for the university's Newmarket campus, showing organic-like buildings leaning outwards, with ramps and roof terraces.
Peter Fehl, the university's property services director in charge of redeveloping that site, said the scheme was highly imaginative and futuristic and he praised the students for their work, joking that they could save clients' money on architecture fees.
Tessa Crosby of Unitec designed a hospital to be incorporate into the city. An oncology building is shown relocated from an "isolated hospital campus" into a central CBD site with the ground floor as a public convention centre.
The institute said the brothel project was probably the most left-field entered but that all the projects dealt with social concerns.
See all designs part of the 5th year Student Design Awards here.