Colin Bass and Simon Harvey are directors of strategic planning consultancy BusinessLAB.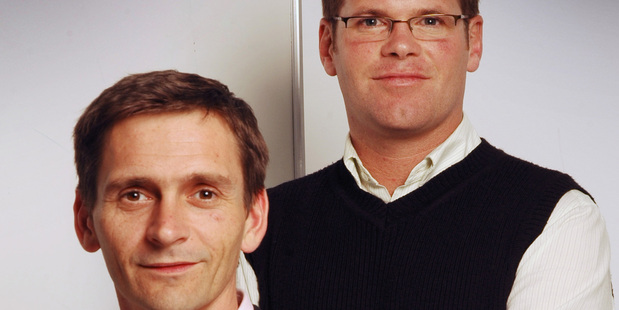 Why and how did you decide to go into business together?
Colin Bass: We met at the Herne Bay rackets club and connected discussing work stuff - in particular what I was doing with BusinessLAB. As a practicing lawyer at the time, Simon gave me some legal assistance and became more interested in BusinessLAB's collaborative approach to helping different types of organisations plan for the future. At the time, Simon was considering his future and career options outside of the legal profession. He always had a passion for business, as well as a deeper belief that there were better ways for businesses to operate more sustainably.
Several years later, after Simon had left Bell Gully and the law, we got back together to talk about opportunities. Simon had also worked for Auckland City Council as a senior strategy advisor and we discussed becoming partners in BusinessLAB - the timing seemed right.
We became equal partners in the company based on a two-page partnership agreement.
We included a clause, which became known as clause six, which provided we should always work to enjoy the experience of owning the business and have fun. When things get tough we remind ourselves of clause six.
How does the partnership work on a practical level? Who does what?
Simon Harvey: We have created a unique structure whereby we run two separate practices within the business, which gives us the freedom to work independently and in collaboration with other professionals, but at the same time collaborate together where it makes most sense. A portion of our earnings is retained in the business to cover overheads.
One of us manages the day-to-day business requirements, and we've swapped this role over the years, and we both provide different components of strategic leadership that match with our particular skills and strengths.
What factors make your partnership effective?
Bass: We're both passionate about building organisational resilience through helping people work better together. We share very common views on our collaborative approach to strategy development and enjoy enhancing BusinessLAB's approach through sharing insights and ideas generated from our diverse work. Generally, the different work we are involved with covers local and regional economic development, organisational improvement and sustainability, and helping organisations leverage complex stakeholder environments to maximise productivity by aligning shared interests and priorities.
We also enjoy each others' company and share a passion for going into the wilderness to do our strategic thinking.
What have been some of the challenges of working together?
Harvey: There are slight differences in our key areas of interest and expertise. Initially this was difficult because we had to balance building the business' brand with building our own personal brands as practitioners. A lot of our work comes from our personal relationships and reputation, so it made sense to enable each other to really focus in their own areas of expertise. However, introducing the practice structures within the business has allowed us to develop those areas of interest while remaining well connected and building the business over time.
All the work we do is connected by a shared vision of building resilience, which we do by helping people work better together through effective collaborative planning solutions. Finding that central theme as a connector for all our work has laid a valuable touchstone that will also enable us to welcome other professionals in to the organisation.
Bass: My decision to move south to Nelson a few years back threw out a new challenge, but using technology and through the ease of travel between Nelson and the main centres we continue to work as productively as ever together. If anything, the move has helped open up new opportunities around the country.
Working independently does require commitment to staying in touch with what the other is doing, so we invest effort in doing this - usually by enacting clause six and doing it over a cold one or a nice lunch.
At the end of the day we have developed a platform of trust that underpins the relationship - that's the main reason it has survived for more than 10 years. We have given each other the freedom to follow our own passions, which has resulted in a stronger partnership over time.


Coming up in Small Business: The end of the financial year is drawing near. It's often a time when small business owners are busy looking back to get their affairs in order, but do you also use it as an opportunity to look forward and set some goals for the year ahead? If you've got an end-of-financial-year story to share, drop me a note at: nzhsmallbusiness@gmail.com.