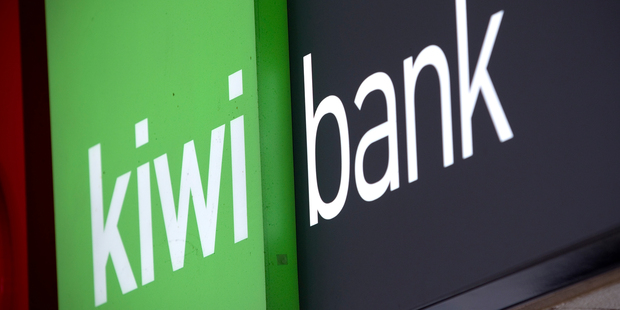 Kiwibank expects to continue to grow its profits in the second half of its financial year but says it will face challenges from rising interest rates and more people moving onto fixed mortgage rates.
"What we are seeing generally is an improving economy," Kiwibank chief executive Paul Brock said. "We expect to see continued growth in the second half."
But margins would come under pressure as more people moved from floating mortgage rates to fixed rates.
Kiwibank, the biggest profit generator for state-owned parent New Zealand Post, said first-half profit fell 10 per cent because of a squeeze on lending margins and infrastructure spending.
Profit fell to $52 million in the six months ended December 31, from a record $58 million in the same period a year earlier, the Wellington based lender said in a statement.
Brock said the bank was also investing money in its retail network following the roll-out of a new store format on Auckland's North Shore.
Brock said he expected to see the split between floating and fixed rates move back to historical levels.
"My view is that it will get closer to where we were a few years ago."
In the past New Zealand had a split of 30 per cent floating and 70 per cent on fixed rates.
Kiwibank's ratio was presently 40/60.
"I think we will end up 30/70."
Brock said the bank was also switching its focus from growing customer numbers to increasing the number of products held by existing customers.
As of the end of December Kiwibank had 840,000 customers representing 23 per cent of New Zealand bank customers.
But only 385,000 were considered main bank customers representing a 10.7 per cent market share.
"The main opportunity for us is in our existing customer base," he said.
Brock said Kiwibank was slightly below the rest of the market in terms of how many products its customers had that were with the same bank.
"We are below the rest of the market. We want to catch up in those areas."
But he said the challenge in getting more existing customers to use its products was that many only dealt with the bank in a digital form.
Total lending rose 5.7 per cent to $14 billion while customer deposits increased 2.4 per cent to $12.4 billion. Deposits account for 81.7 per cent of the bank's funding, it said.
Kiwibank said it plans to spend more than $100 million over the next four years to upgrade is core banking systems. The project will involve a number of IT providers and a banking system built by Germany's SAP, it said.
"The result was satisfactory, but fell short of the excellent result from last year as a result of tighter lending margins and investment in the bank's infrastructure," said chief executive Paul Brock.
Kiwibank accounted for about 73 per cent of parent NZ Post's interim profit of $71 million, announced separately today. Kiwibank opened eight branches on the North Shore as part of its "retail transformation programme" while NZ Post is reducing its footprint.
The lender is New Zealand's fifth largest and said today it has total customers of 840,000, or 23 per cent of the total market, although the number who used Kiwibank for most or all of their banking services was 385,000, or 10.7 per cent market share.
with BusinessDesk