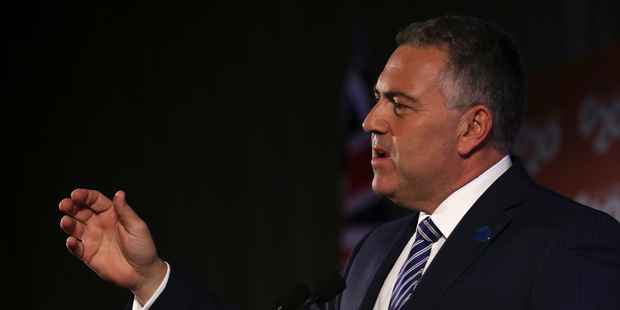 The world's key economies have agreed on a plan to accelerate the pace of global growth by more than 2 per cent over the next five years.
"This is over US$2 trillion [$2.4 trillion] more in real terms and will lead to significant additional jobs," Australia's Treasurer, Joe Hockey, said yesterday.
Hockey was speaking to the final communique from the weekend meeting of Group of 20 finance ministers and central bank chiefs in Sydney. He said the aim to increase the world's collective gross domestic product, or output, would require each country to shape its own growth plan.
"To achieve this we will take concrete actions across the G20, including to increase investment, lift employment and participation, enhance trade and promote competition."
Hockey acknowledged there had recently been signs of stronger economic growth in the US, Britain, Japan and China, but the global economy was yet to achieve strong, sustainable and balanced growth.
"We agree that the global economy still faces weaknesses in some areas of demand, and growth is still below the rates needed to get our citizens back into jobs," he said. "Recent volatility in financial markets, high levels of public debt, continuing global imbalances and remaining vulnerabilities within some economies highlight that important challenges remain to be managed."
He said central banks in many advanced economies still needed policies to stimulate growth, but these would be scaled back in due course.
"This development would be positive for the global economy, and reduced reliance on easy monetary policy would be beneficial in the medium term for financial stability."
- AAP