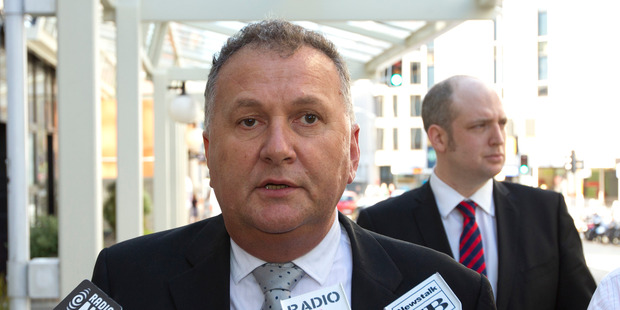 The staff working next door are upset. I have got to know them because they take their smoke breaks in the alley outside our workshop.
When I sympathise, the checkout lady declares: "Oh well, it must be election year. We now all know who Shane Jones is." Indeed.
Jones' attack on Countdown has shot him into the headlines, standing up for "God-fearing" Kiwi suppliers against an Australian corporate that is, according to Jones, "feral", "fascist" and "corrupt".
He has chosen a good political target and it doesn't do him any harm to be siding with Kiwi battlers. But Jones is talking nonsense and making a hash of it.
First, it's a rookie mistake to complain to the Commerce Commission.
Jones has let Government ministers off the hook. They get to keep their hands clean, declaring it wrong to comment on a complaint before the commission.
He should have written to the Prime Minister. That would have made it John Key's problem. It would also allow Jones to question Key in Parliament over several days to keep the story alive better.
Second, Jones over-egged his allegations. He accused Countdown of "monopolistic menace", "blackmail", "extortion", "racketeering" and of being "corrupt". Those are accusations of organised crime.
To drive the allegations home, Jones accused Countdown of Mafioso tactics with a culture that would make Tony Soprano proud.
Not even the harshest of Countdown's critics has accused local supermarkets of being part of an organised crime network.
Jones has. Big mistake. He has tied his credibility to specific allegations demanding of a very high standard of proof. He has given himself no wiggle room.
Third, Jones' letter of complaint is sloppy and thin. He starts out addressing Commerce Commission chairman Dr Mark Berry as "Dr Barry". The letter suffers grammatical mistakes and a key sentence is so poorly constructed it doesn't make sense. Such sloppiness doesn't instil confidence.
His complaint is just four short paragraphs. That's not enough to back the accusation that a major corporate is engaged in organised crime.
Fourth, Jones has no evidence. His allegations were spectacular, hence the headlines, but he has no evidence to back them. In Parliament, his only claim was that unnamed Countdown managers had asked for back-dated cheques from unnamed suppliers. That's it.
That's not evidence. That's not organised crime. It doesn't even make sense.
A back-dated cheque doesn't pump up last year's profits, despite Jones' claims. His letter of complaint makes no mention of back-dated cheques. He simply complains that constituents are alleging that Countdown is demanding what are called slotting fees and commercial secrecy.
Huh? That's what supermarkets do. Their shelf space is valuable and they can charge for its use, especially for the prime spots.
The shelf space belongs to them and they make it valuable by stocking it with quality produce at prices we can afford. That's why we shop there.
There's nothing odd or criminal about slotting fees or demanding commercial confidentiality.
Do supermarkets drive hard bargains? Of course they do. That's because we do. I don't see many shoppers busting to pay more for their tomatoes.
We ruthlessly hunt out bargains. And that's what supermarkets must do to keep our custom.
Are supermarkets big business? Of course. That's because they are good at what they do. Are they a monopoly? Definitely not. No one has to shop at a supermarket, no one has to supply them.
Jones is now saying he's moving on from the hyperbole. "I have to book it as a win, but the true winners, hopefully, at the end of the day, are those of us who buy our groceries for a sharper price and the suppliers who keep employing people and hopefully stay in business."
Jones is claiming victory and declaring his attacks are simultaneously cutting grocery prices and hiking payments to suppliers. Well, that's what he's saying.
And it is election year.