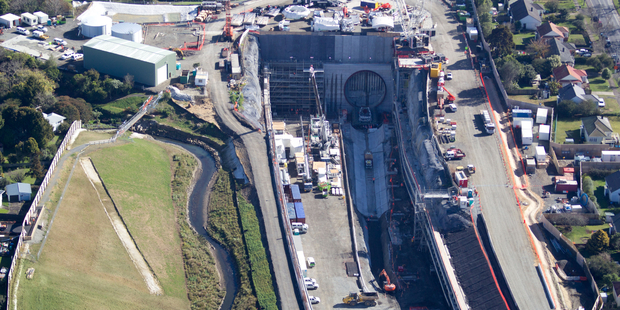 An online tracker to follow the steady progress of New Zealand's biggest dig is about to be revealed.
The Government agency in charge of the Waterview Connection motorway project says people will soon be able to gauge the productivity of Alice the tunnel-boring machine.
"We're developing a tunnel tracker that will show Alice's progress," the Transport Agency said.
Yesterday a spokesman said it would go live "mid to late March, when the tunnel-boring machine starts tunnelling again after a shutdown for work associated with the construction of a tunnel culvert".
As well as that digital development, a new image was released this week by the Well-Connected Alliance, which includes Fletcher Building, showing how far the first tunnel had been dug. An above-ground shadow was projected over the area.
By last week, the tunnel was 250m long as Alice heads north, building the first of the two corridors.
The agency says the connection will create 5km of six-lane motorway through and beneath the city's western suburbs, linking State Highways 16 and 20 to complete the city's Western Ring Route by 2017.
That will provide a viable alternative for commuters, freight and through-traffic to State Highway 1, which runs through the city and over the Auckland Harbour Bridge and is regularly over capacity at peak times.
It will also directly link the airport and the CBD, reducing travel times between the two points by more than 15 minutes, the agency says.
Mark Adamson, Fletcher's chief executive, said the project was going "exceedingly well".
Alice is a custom-built earth pressure balance machine, able to bore tunnels up to 45m beneath the surface and pass below the region's hard volcanic rock. The corridors are 14m in diameter and Alice is the 10th biggest machine of its type in the world, working now on Australasia's largest tunnel.
It was named after the classic Alice in Wonderland story, as suggested by Branden Hall from Everglade Primary in Manukau, who was 9 at the time.