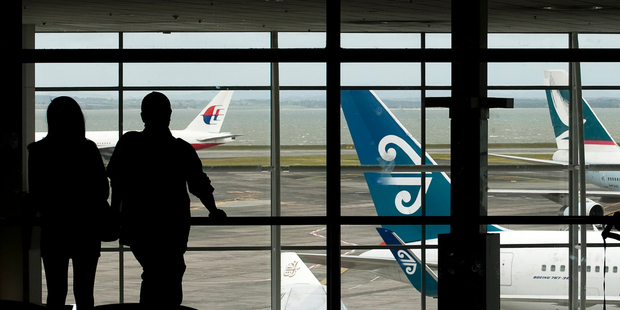 Auckland International Airport, the country's main gateway, boosted first-half profit 12 per cent as new routes and increased capacity stoked passenger activity, and the hub is now expecting bigger annual earnings as a result.
Net profit rose to $85.9 million, or 6.49 cents per share, in the six months ended Dec. 31 from $76.9 million, or 5.82 cents, a year earlier, the Auckland-based company said in a statement. The earnings were in line with a forecast by First NZ Capital.
Underlying earnings, which strip out one-off charges and revaluation changes, climbed 14 per cent to $86.7 million. Auckland Airport raised its guidance for full-year earnings to between $166 million and $172 million, from a previous range of between $160 million and $170 million.
"The company is pleased to record an interim result which has exceeded expectations and builds on our recent strong performance," chairman Sir Henry van der Heyden said. "We have renewed our focus on becoming a southern hub airport for the Pacific Rim, and our focus on growing travel markets has resulted in new routes and additional seat capacity."
Last week the airport's shareholders approved a $454 million capital return via a share cancellation. The company undertook the return after several strong years left it with an inefficient mix of debt and equity.
The company's board didn't envisage paying an interim dividend while carrying out the capital return at the same time.
The shares last traded at $3.64, and have edged up 3.1 per cent this year.
Auckland Airport's aeronautical unit boosted income 8.8 per cent to $120.5 million and earnings before interest, tax, depreciation and amortisation climbed 12 per cent to $86.8 million. The retail unit increased revenue 3.9 per cent to $90.8 million while EBITDA rose 2.6 per cent to $82.8 million. The property business boosted revenue 9.5 per cent to $24.3 million and earnings 8.9 per cent to $18.3 million.
Van der Heyden said the increased aeronautical income was underpinned by higher international and domestic passenger volumes and growth in car parking revenue, while the property unit delivered a solid gain in rental income.
Auckland Airport increased international passenger movements 4.7 per cent to 4.08 million in the half, while domestic passenger movements rose 4.8 per cent to 3.52 million. Aircraft movements edged up 0.9 per cent to 78,959.
International passenger movements at the Cairns airport fell 6.9 per cent to 326,146, though domestic passenger numbers rose 4.7 per cent to 2.12 million. Mackay domestic passenger numbers were down 3.8 per cent to 582,371. The North Queensland Airports boosted net profit 19 per cent to A$11.2 million.
Queenstown Airport boosted international passenger numbers rose 29 per cent to 179,153, though domestic numbers were down 4.8 per cent to 464,786. The South Island hub lifted net profit 23 per cent to $3.8 million.
Auckland Airport's share of profits from its associates, including the North Queensland Airports, Queenstown Airport and Novotel Hotel, rose 11 per cent to $4.9 million.