Any currency weakness later in the year or next year will be cream on top, says broker.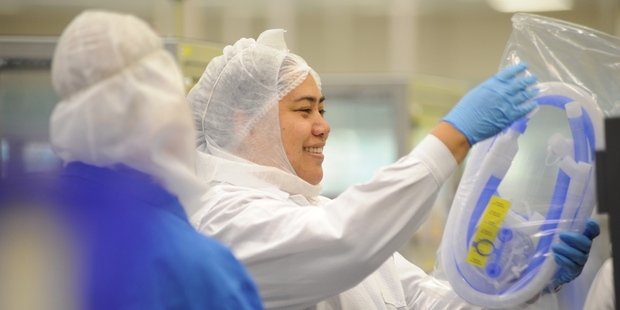 Any weakening in the New Zealand dollar would provide the "cream on top" for medical device exporter Fisher & Paykel Healthcare, which is already delivering outstanding financial results despite the currency's continuing strength, an analyst says.
The Auckland-based company, whose products include respiratory humidifiers used in hospital intensive care units and devices used by sufferers of obstructive sleep apnoea, yesterday lifted its full-year profit guidance to around $97 million - assuming exchange rates remain at current levels - from the firm's previous forecast of $90 million to $95 million.
F&P Healthcare's share price has almost doubled over the past two years and yesterday's announcement pushed the stock to a new all-time high of $4.19.
Three years ago F&P Healthcare was facing falling profits and a declining share price as the company, which derives roughly 50 per cent of its operating revenue in US dollars, came under pressure from the strong currency.
Since then the firm has combated the high dollar with a successful currency hedging strategy, new products, increased operating efficiency and a ramping up of production at its lower-cost facility in Tijuana, Mexico, where lower-value "consumable" products are made.
"If they get any currency weakness later in the year or next year, then that's all cream on top because this [profit upgrade] is happening without any significant weakness in the dollar," said Mark Lister, head of private wealth research at Craigs Investment Partners.
The New Zealand dollar was trading at US83.48c against the greenback at 5pm last night down from US83.59c early in the day.
Westpac senior markets strategist Imre Speizer told the Business Herald this week that he expected the kiwi to remain firm against the US dollar this year, rising above US84c to a potential peak of US86c, but to decline against the greenback next year as the US economy improved.
F&P Healthcare announced yesterday that it will spend $4 million increasing its Mexican facility's production area by two-thirds.
Chief executive Mike Daniell said demand during the second-half of the financial year had been very encouraging across all markets and new face masks used for the treatment of sleep apnoea had been well received and were grabbing market share.
The company also expects to benefit from changes introduced by Medicare - the US Government's heath insurance system for the elderly - which is planning to penalise hospitals for "excessive chronic respiratory patient readmissions".
"We believe that this will increase the demand for our products which can help to improve care in the home for patients with chronic respiratory disease," Daniell said.
He said that while the company would continue investing in its South Auckland plant, where new manufacturing lines were being developed, F&P Healthcare had the option to shift production of non-consumable hardware products from New Zealand to Mexico in the future.