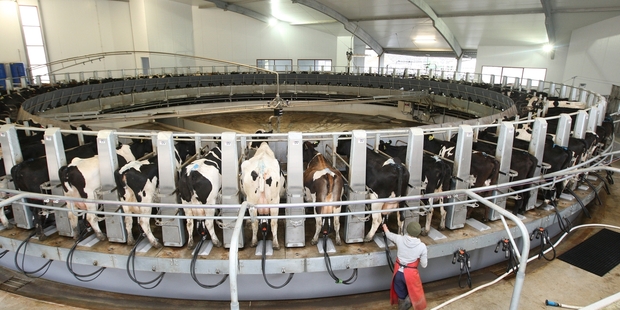 New Zealand is well on the way to a record year for dairy production, thanks to ideal grass-growing conditions that carried over from 2013 into the new year, say economists.
The weather over Christmas-New Year may have been a mixed bag for holidaymakers, but for most dairy farmers conditions have been ideal. However, north Waikato and Northland did suffer from dry spells.
MetService meteorologist Daniel Corbett said anticyclones, which normally bring the warm weather over the summer, were absent for much of January and instead hovered over Australia or the Tasman Sea.
The resulting cool westerly flows brought moisture-laden airflows to much of the country.
BNZ economist Doug Steel said milk volumes were set to increase by 8.5 per cent over last season thanks to near-perfect growing conditions.
Higher-than-normal rainfall over most of the country would also have helped sheep and beef farmers as they rebuilt stock levels after last summer's drought, Steel said.
Milk production for January was about 5 per cent higher than in January last year, which was affected by drought, according to Rabobank dairy analyst Hayley Moynihan.
"Rainfall received over the summer holidays has certainly been useful for pastoral production," she said.
"Potentially, we see a season that, unusually, will be a record for both the milk price and for record-high milk flows."
Last December, Fonterra maintained its forecast payout farmgate milk price at $8.30 per kg of milk solids for 2013/14, which would surpass the previous record of $7.60 in 2010/11 if it comes to pass.
The dairy industry helped underpin the economy last year and the sector looks set to be a key component driver of strong economic growth in the year ahead, economists say.
Statistics out today showed that dairy export values for the December quarter were up more than 26 per cent over the previous quarter, which in turn was up more than 26 per cent from the quarter before. Dairy prices have stayed persistently high over 2013, driven by strong demand from China.
The GlobalDairyTrade price index is just 7 per cent below its April 2013 peak and is 48 per cent higher than at this time last year.
BNZ's Steel said other rural sectors were also facing brighter outlooks, with prices for sheepmeat, beef, kiwifruit, wine and forestry all showing signs of improvement over last year.
- APNZ