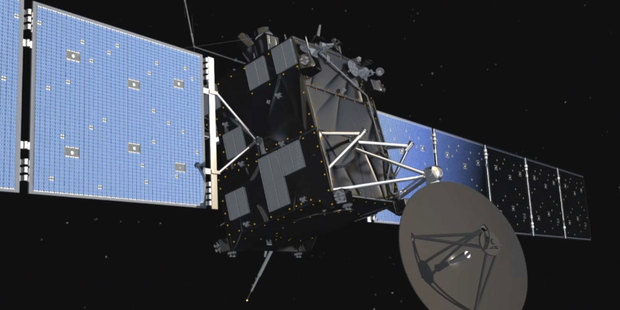 New Zealand tech company Rakon is heralding its link to a comet-catching space probe, which is poised to be the first to land a craft on the surface of a speeding frozen rock.
Auckland-headquartered Rakon published a bulletin on its website this morning saying the Rosetta used several frequency control components from the Kiwi company.
Rakon is proud to have crystal oscillators and filters in space on board Rosetta, the comet-chaser spacecraft!: http://t.co/zL9q8LSVnu

— Rakon Limited (@rakonltd) January 28, 2014

Rakon said its crystal oscillators and filters would be used during Rosetta's probe of the 67P/Churyumov-Gerasimenko comet, which aims to help learn more about the evolution of the solar system.
The Rosetta was launched in 2004 and is the first mission to try land on a comet, where it will carry tests on the frozen-rock's surface.
Rakon said the Rosetta was due to "rendezvous with the comet" in the coming months and drop a lander onto the rock's surface this November. Because the comet has very little gravity, the Rosetta's probe will use harpoons and ice anchors to latch on it.
The Rosetta is presently around 9 million km away from the comet.
The European Space Agency, responsible for the probe, on January 20 received the first contact from the Rosetta in 31 months.
The craft, which operates on solar energy, went into hibernation in June 2011 some 800 million km from the warmth of the sun. This month its orbit had brought it back to 673 million km from the Sun, meaning there was enough energy for it to power up again.
Tweets by @ESA_Rosetta

A pre-programmed alarm woke up the craft, leading to the communication with ESA.
Rakon shares were trading for 22c each around 2pm, up 10 per cent.
The company is forecasting a full-year loss of $54 million for 12 months ending March 31.
The company recently reported a half year net loss after tax of $45.7 million, widening from $4 million in the same period in 2012.