$370m project by Torrens River tipped to become the arts, sports and entertainment centre of Australian city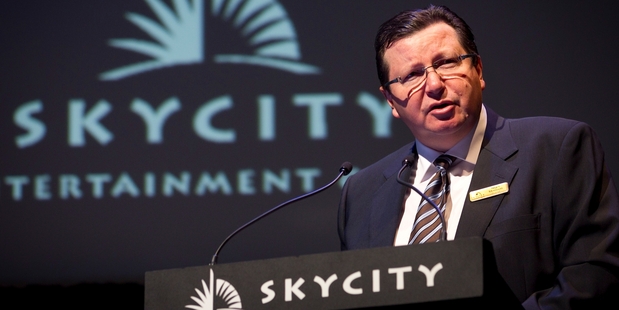 SkyCity Entertainment Group has begun its A$350 million ($370 million) Adelaide redevelopment, reshaping and refurbishing areas in the historic railway station it leases.
Well before the new 11-level 25,000sq m hotel and expanded casino rise on an adjoining site by the Festival Centre in front of the Torrens River, parts of the existing Adelaide Casino are partitioned off for the upgrades.
That A$45 million job will create more of a statement main entranceway off North Terrace, strip out and refit the only existing top restaurant, North, create new premium gaming areas and new membership areas and upgrade equipment and technology.
Those changes are being carried out on the ground and first levels of the four floors SkyCity leases from the South Australian Government.
But later this year contractors yet to be appointed are due to begin work on a vast new building in a job second only to SkyCity's $402 million Auckland convention centre.
A glass-walled addition will rise about 5m in front of the railway building, connected via air bridges and bringing much bigger gaming areas and a hotel, all designed to cater for up to 50,000 people, expanding towards the Dunstan Playhouse which fronts the Torrens River.
But first, the renovation.
"We've already started work to create a more homogenous gaming room," said business development and investor relations general manager Aaron Morrison, standing on the 1800s historic railway station.
"We hope to open the first new premium gaming areas by the end of February," Morrison said of the new Platinum and Pearl gaming areas.
"For the next 12 months, we'll be doing things to this building," he said, predicting Adelaide presented SkyCity with big scope for expansion.
"This is by far the greatest opportunity for the group. It's taken a while for people to appreciate the value that can be created here. The A$350 million is the biggest private-sector investment in Adelaide."
Projects worth A$4 billion were being developed within a 1.5km radius of the casino, of which A$535 million was being spent on the Adelaide Oval on the river, he said.
"This will be the arts, sports and entertainment heart of Adelaide."
McConnell Dowell has almost finished the new 255m long, 8m wide A$40 million walking Riverbank Bridge linking the railway station, casino and Festival Centre to the Adelaide Oval. Morrison said that was a key part of the transformation.
The A$350 million Adelaide Casino project was designed by the Buchan Group under principal David Cole, working with Bates Smart Architects.
"I've grabbed a lot of the old crew out of Melbourne," Morrison said of his previous Crown Casino development in Victoria.
In Adelaide, the existing North restaurant would soon be converted into an eatery more akin to Auckland's The Grill or Depot on Federal St, "catering for a diverse range of customers, more edgy, fast-paced".
The new 100-room six-star hotel to be built in the glass-front development would have about 100 rooms and SkyCity would manage and operate it, Morrison said.
"This is for the purposes of attracting and accommodating interstate and international customers."
But carparking is an issue yet to be resolved. Morrison said there was an opportunity to create a civic square with 1500 carparks beneath that but Sydney developer Lang Walker had the rights to that.
"We don't offer any carparking," Morrison said regretfully.
SkyCity chief executive Nigel Morrison said the upgrade would result in the casino and hotel becoming the jewel in the crown of Adelaide's Riverbank Precinct.
Not everyone is delighted. At the neighbouring Dunstan Playhouse, a ticket seller expressed her concerns.
"We don't need a big thing like that. It just makes the gambling problem worse. There's not enough people to fill the existing casino. It's half empty all the time, so where will the people come from?" she asked.
Jeremy Simpson of Forsyth Barr flagged parking problems in a December 18 analysis after he visited Adelaide and Darwin.
"Carparking still remains a key challenge and also an opportunity given resolving the situation will go a long way to winning market share," Simpson said.
"It should be resolvable as SkyCity continues to negotiate with the third-party contractor looking to build the underground car park adjacent to the casino and the government is very keen for more parking in the area, given the other developments in the precinct," he said. "What will be crucial is how many parks SkyCity has access to at key times."

• Anne Gibson paid her own way to Adelaide on annual leave.