An experience with her then two-year-old daughter inspired Bianca Richardson her to set up her business, Hamilton-based Houdini, in 2008.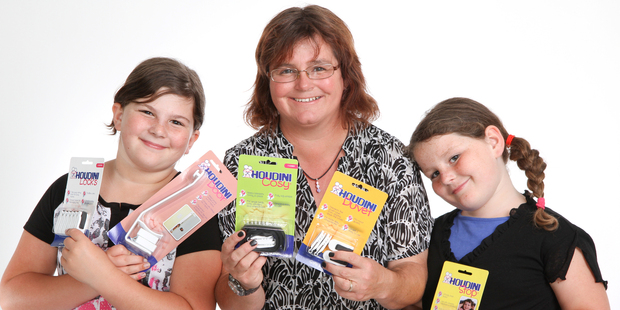 How did your experience as a parent give rise to your business, Houdini?
My daughter, Jessica, was a right little Houdini - a master of escape. She would pull her arms out of her carseat harness and hoist her whole body out, sometimes even standing on the back seat. I couldn't find anything that worked to hold her in so it got me thinking and I created an after-market accessory prototype, to be used on carseat straps, out of some braces clips and elastic.
Tinkering with this resulted in the Houdini Stop, a device designed to prevent children removing their arms - and entire bodies - out of carseat, highchair and stroller harnesses. It was designed to save two things: a child's life and a parent's sanity.
I've since also created an extensive product range to solve other escape issues, including the Houdini Door, Houdini Locks and many more.
Do you work on the business full time or juggle it with childcare or other roles?
I tend to work about 16 to 20 hours a week on the business. Even as the business grows, I'm hoping to still only put in about that much time and then hire subcontractors - preferably other mums who can do stuff from home, and in the evenings. I work on paperwork and computer stuff in the evenings or when the kids are at school. Nothing much tends to happen in the school holidays.
What impact has the business had on family life?
It has certainly helped us financially and I think I've achieved a beautiful, balanced lifestyle as I still get to attend my kids' sports events, volunteer at school and that kind of thing. The kids are proud to have helped to develop the products; they know they are the "Houdini Stop baby" or the "Houdini Door baby". And in a couple of years they'll be old enough to help with assembly of the products.
What have been the challenges of being a parent entrepreneur?
It can be a challenge to have people take you seriously when you're not a full-time business person. I tend to make out that I have a factory somewhere, as opposed to that just being in a room out the back of our home!
Where to from here?
Now that I have an extensive product range, I am working on expanding internationally. I'm excited to be finalising agreements with distributors in the UK and Ireland, which will double or triple our size. Once that is all established the goal will be to release another new product each year. I already have two ready to go, but am waiting until I have all my ducks in a row.
What tips would you have for other entrepreneurs inspired by their experience as a parent to set up a business?
Believe in yourself and in your product. Take it slowly and build the foundation of your business properly. If you truly believe in what you are doing, you will make it a success. People will say no to you, but passion and push-through goes a long way.


Coming up in Small Business: From Facebook to Twitter, Instagram to Pinterest, everyone's trying to raise their social media profile. But is it translating to sales? If you've got a cool story about how you've used social media buzz to market your business (that's had a tangible effect on the bottom line) drop me a line.