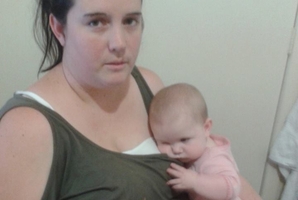 A six-month-old baby girl was left "screaming in pain" after eating a pudding topped with cream that was potentially infected with E.coli bacteria.
Marissa Beesley, 32, her 5-year-old daughter Ashleigh and baby Ella Rose became ill after eating cream while visiting relatives in Kaitaia last week. Doctors who initially assessed Ella said she was "full of bacteria".
Last night, Fonterra confirmed they were aware of the case and were watching developments closely.
Ella Rose was the first in the family to get sick, but since then Ms Beesley and Ashleigh had also been unwell.
"Five days ago she just started to get sick and we don't know why. We went to hospital in Kaitaia and they told us to go home because it was a bug - but when we went home she started getting worse."
By the next morning Ella-Rose was "screaming with pain, we couldn't get her to stop". A doctor took a blood test which showed bacteria in the baby's body. Ms Beesley then saw an update about the recall on TV.
She went back to the doctor who said he couldn't figure out where the bacteria came from, but thought it was E.coli. They were waiting on tests to confirm this.
Ms Beesley said Ella-Rose had eaten some rice pudding the family had for dessert which had cream over the top. While she didn't know the batch number she could remember the best before date because her partner paid close attention to those.
A representative from Fonterra phoned her yesterday and asked several questions, including why she hadn't kept the cream bottle. "I said to them we had finished it and we didn't know anything was wrong with the bottle." However, the company told her they believed the bottle she purchased could have been in the affected batch.
She had been told by some that cream wasn't good for babies but Ella-Rose didn't have much.
The baby was now on antibiotics and was slowly improving.
Fonterra Brands NZ managing director Peter McClure said: "We are concerned that a baby is unwell, it is clearly a worrying time for the family and we are following up with them, particularly while they're awaiting results from tests."
There had been 17 calls from people who said they had got sick after eating the fresh cream. However of those, only four were specific to the recalled best before date.
The investigation into what caused the contamination had been narrowed down to 19 parts of the plant. The outcome wouldn't be known for a few more days.