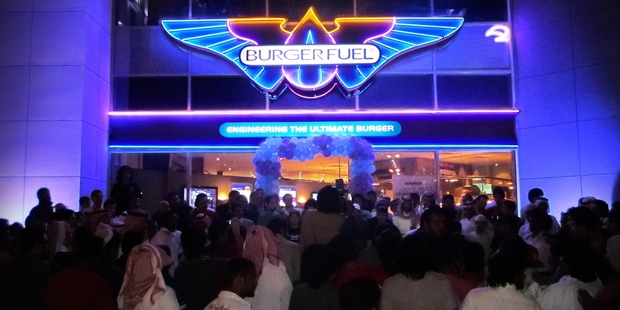 Shares in New Zealand owned fast food chain BurgerFuel closed up 80 per cent today on news that a US company linked to the founders of the Subway restaurant chain is buying a 10 per cent stake and has signed a deal to help the New Zealand fast-food firm break into the American market.
The agreement also gives the US firm, Franchise Brands LLC, an option to increase its stake in BurgerFuel Worldwide to up to 50 per cent over the next 8 years.
The shares closed at $2.70 on the NZX up from $1.50 prior to the morning's announcement.
Read the full release to the NZX here.
BurgerFuel is listed on the NZAX and operates stores in New Zealand, the Middle East and Australia.
The initial 10 per cent stake, at a price of $1.35 a share, is made of a new placement of $5.9 million BurgerFuel shares and the purchase of $2.16 million shares from the company's majority shareholder, Mason Roberts Holdings.
BurgerFuel said the deal was complete and it was anticipated it would get shareholder approval shortly.
Franchise Brands (FB) was set up in 2005 "with the support" of Fred DeLuca and Peter Buck, the founders of Subway restaurant chain - which has 40,000 franchised stores in more than 100 countries.
FB and BurgerFuel intend to collaborate to help grow the burger company, with the new US investor also providing "global development opportunities, including in the United States where BurgerFuel plans to open restaurants".
The deal gives BurgerFuel, which has no debt, cash reserves of $9 million to $10 million.
"This is extremely positive for the future of BurgerFuel," said BurgerFuel chairman Peter Brook.
"It's an incredible opportunity for the company and very exciting for all our shareholders. Bringing on board a strategic investor with major distribution, experience and unsurpassed global reach will drive significant value for BFW over the coming years. We are delighted for all of our shareholders," he said.
BurgerFuel in December reported a 35.4 per cent increase in total system sales, which includes sales by franchise stores, to $30 million for the six months to the end of September - a record for the half-year period.
Net profit fell to $95,691 from $308,372 in the same period last year, with the operating revenue of the listed firm - what the franchisor earns from franchisees' royalties - up 25.5 per cent to $6.73 million.
The company said the fall in profit was in line with previous market guidance and was a result of investing for future growth.
Operating expenses lifted to $6.6 million from $4.9 million in the same period a year earlier.