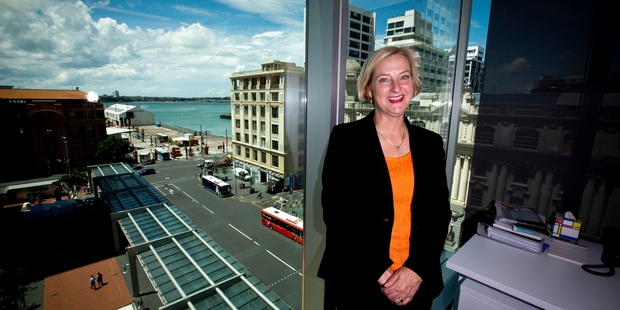 Australian lawyer Julie Read has taken the helm of the Serious Fraud Office at a time when its future has yet to be charted. With the tsunami of failed finance company cases mostly completed, the new SFO director says there is now some "breathing space" to consider where the agency goes next.
Like many government departments, the SFO is being reviewed for its "fitness for purpose".
"We are in a process of transition because we've been through that enormous hump of litigation with the finance companies that just consumed our attention and resources, and so in a way there's a question and what we're looking at with the [review] is where are we and where are we going next," she said.
"Part of what we're doing is trying to understand precisely what the SFO is here for. Not to justify our existence but to understand what our role is," Read said.
Read left her home in Hobart to take charge of the fraud watchdog in October, her husband and two beagles also moving to Auckland.
Six weeks into the job, she said the Christchurch rebuild and corruption were some of the issues on her radar.
Read doesn't think New Zealand has a problem with corruption but said the country's solid reputation made for a lot of interest from the public that could lead to complaints about alleged corrupt practices.
During her decade-long stint with the Australian Securities and Investments Commission (ASIC), Read led an investigation into the Australian Wheat Board paying the Iraqi Government in order to get around United Nations sanctions.
The wheat exporter indirectly paid more than US$200 million ($242.9 million) in kickbacks to the regime of Saddam Hussein, a 2005 United Nations probe found. No criminal charges were laid but ASIC brought civil proceedings against wheat board directors in 2007, some of which are ongoing.
"It was high stakes, high profile, high difficulty," Read said of the investigation, which she counts as a highlight of her career.
The challenge of bringing a complex legal case is what Read says she has enjoyed across her career. Part of the attraction of working for a corporate watchdog like ASIC is being involved with big cases, she said.
"If you're [a lawyer] at the private bar you might get one case but there's certainly no guarantee you're going to get the next one or the one after that," Read said.
Before ASIC, Read had 13 years working for the Commonwealth Director of Public Prosecutions, responsible for the conduct of prosecutions in her home state, Tasmania.
"Coming here is the next step in my career. It's a great opportunity ... I get to run a big investigation and prosecution practice which is at the sharp end of making a difference."
Read, who said she was old enough not to want to reveal her age, appears to have flown under Australian media radar and while that may be different in New Zealand, she's not interested in personal publicity.
"I've always taken a lower-key approach ... I'm not personally interested in being famous. I see my job as promoting the office and its work."