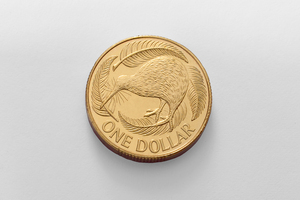 The New Zealand dollar touched a new five-year high against the Australian dollar after Reserve Bank of Australia governor Glenn Stevens talked down the value of his currency on the same day the New Zealand central bank said local rates were heading higher.
The kiwi touched 92.46 Australian cents early this morning, and was trading at 92.23 cents at 8am in Wellington, from 91.63 at 5pm yesterday. The local currency slipped to 82.43 US cents from 82.67 cents yesterday.
The Australian dollar fell sharply, touching 89.12 US cents, its lowest since Aug. 30, after Stevens told the Australian Financial Review he prefers the Aussie to trade closer to 85 US cents than 95 cents as a weaker currency is preferable over lower interest rates to ease financial conditions in Australia.
On the same day, New Zealand Reserve Bank governor Graeme Wheeler in his last monetary policy statement of the year signalled steeper interest rate hikes next year to quell looming inflation pressures, underlining the disparity between the two nations' economies.
"After the monetary policy statement, you have got the tale of two cities really," said Stuart Ive, senior advisor at OM Financial. "You have got everything coming along in New Zealand and a central bank that is hell bent on raising rates. Then you have got the flipside in Australia where to stop them cutting rates they need the currency lower. "
The kiwi jumped overnight through its previous resistance level of 91 Australian cents, and the next set of data could take it through the next resistance level of 93.50 cents, Ive said.
"The New Zealand economy is still proceeding in a very healthy way whilst the Australian one is still under a lot of strain and that is being reflected clearly in the kiwi Aussie cross," Ive said.
Today, traders will be eyeing the BNZ-BusinessNZ Performance of Manufacturing Index for November at 10:30am and the ANZ Roy Morgan Consumer Confidence Index for December at 1pm, which are expected to show continued strength.
The New Zealand dollar was little changed at 60 euro cents from 59.92 cents yesterday and slipped to 50.44 British pence from 50.52 pence. The local currency advanced to 85.13 yen from 84.73 yen yesterday ahead of Japanese Industrial Production data later today. The trade-weighted index increased to 77.70 from 77.59 yesterday.