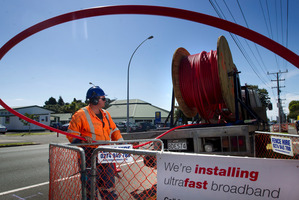 A local fund manager says he has begun buying shares in embattled telco infrastructure company Chorus because the company is now at its "maximum point of uncertainty."
Mark Warminger, a portfolio manager at Milford Asset Management said Chorus shares had fallen from $3.70 in March 2012 to a recent low of $1.275 and were now in "deep value" territory.
"In my opinion, as a new Chorus investor, the company is at the maximum point of uncertainty, with the negatives well baked in and the liquidity being provided by a large offshore seller at a discounted price; these are the main attributes I look for in a deep value investment."
Chorus has been hit by regulatory uncertainty with the Commerce Commission ruling that it is charging too much for use of its copper network.
It has been ordered to slash its charges by the end of next year putting at risk its ability to fund the build of a new ultra-fast broadband network.
The company is expected to have to cut its dividend and raise capital in order to meet its contract with the government to build the UFB.
Warminger said Chorus' contract with government agency Crown Fibre Holdings was very prescriptive around standards and timeframes for completing the new network and changes could be made to help the company.
Those changes could include giving the project special status under the Resource Management Act, addressing the cost of non-standard installations, allowing connections to more expensive properties to be deferred, and/or managing the migration from the copper network to the new fibre network to avoid maintaining new networks.
Warminger suggested Crown Fibre may also look bring forward Chorus' payment schedule from the Government, switch funding from a mix of debt and equity to just equity and bring forward a review of the regulatory network that will apply after 2020.
Chorus and Crown Fibre are currently in talks. Chorus shares last traded at $1.35.