Holden dismisses closure talk as speculation but ministers say parent General Motors is pulling out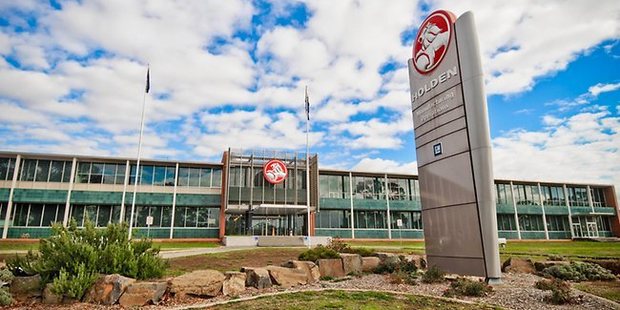 The future of Australian carmaking giant Holden is again under darkening clouds after senior Government ministers told reporters that parent company General Motors had decided to pull out of Australia.
Holden says no decision on its future has been made, but speculation is rife that production will end as early as 2016, joining rival Ford and undermining the prospects of the sole remaining local manufacturer, Toyota.
An exodus from Australia would hammer the parts and associated industries, potentially costing more than 40,000 jobs in direct employment and thousands more as the shockwaves spread.
A Holden shutdown would especially hit South Australia, where up to 15,000 jobs would vanish with the loss of the company's plant in Port Elizabeth, Adelaide.
About 500 jobs have already been cut there and in Melbourne.
Holden said in a bulletin to staff that the reports of impending closure were pure speculation and that it remained fully engaged in negotiations with the Government.
Industry Minister Ian MacFarlane, who is leading the talks, said Holden had assured him no decision had been reached, a position also accepted by Labor's industry spokesman, Kim Carr.
But MacFarlane has been undermined by senior colleagues who leaked reports of a Holden shutdown to the ABC, and told the Australian that the decision had been made in Detroit and that a planned announcement had been postponed until next year.
The Government is weighted with influential economic dries who want taxpayer handouts to the car industry to end. The Government is already axing the most recent A$500 million aid package provided by the previous Labor administration.
Given Holden's plummeting sales and the parlous fundamentals of the industry - 60 brands selling more than 300 models in an annual market of just one million new vehicles - the dries believe it is time to cast carmakers adrift to survive or fail on their own.
Prime Minister Tony Abbott said Holden needed to make a decision - but also that there would be no more federal money.
"There's not going to be any extra money over and above the generous support the taxpayers have been giving the motor industry for a long time," he said.
Carr said the Government was riven by deep internal divisions between those who wanted to abandon the industry and its workers, and those who understood its importance.
He said the A$2.7 billion that Labor pumped into carmakers had created new investment of A$26 billion.
The closure of the industry would slash A$21.5 billion from the economy.
Council of Trade Unions secretary David Oliver said it was unacceptable that unnamed senior government ministers were casting doubt over the future of Holden despite denials by Macfarlane.
And Australian Manufacturing Union national secretary Paul Bastian said there were too many jobs at stake for Abbott not to intervene.