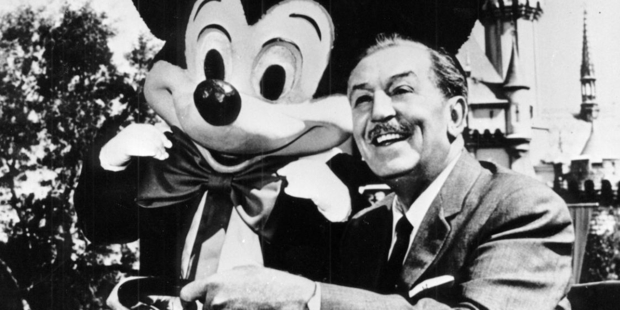 He famously built The Happiest Place on Earth, but half a century after Walt Disney's death, two of his grandchildren are embroiled in a bitter legal row over hundreds of millions of dollars.
This week, while families from around the world make a festive pilgrimage to the home of Mickey Mouse and Donald Duck, the great animator's descendants will meet in a less joyful setting.
In a courtroom 30km from Disneyland, acrimony, recriminations and allegations of deceit far removed from the magical world Walt created will be aired.
At the centre of proceedings are Brad and Michelle Lund, Disney's 43-year-old twin grandchildren, who have not seen each other in four years.
They are the children of the cartoon maestro's daughter Sharon, who died on February 16, 1993. She left trust funds for the twins which together are estimated to be worth more than US$300 million ($368.7 million), and are looked after by trustees.
Sharon intended that the twins should each receive lump sums, amounting to tens of millions of dollars at a time, on their 35th, 40th and 45th birthdays. At each of those milestones they were to be given a 20 per cent slice of whatever was in their trust.
But in her will, trustees were instructed to withhold payment if either of the children had not "demonstrated the maturity and financial ability to manage and utilise such funds in a prudent and reasonable manner".
Brad was told he did not meet the standard, while his sister did and she has received her payments. The ensuing row has torn the family apart.
Brad is backed by the twins' father Bill Lund, a real estate developer who married Sharon Disney in 1968 and helped build Walt Disney World in Florida. The couple divorced in 1977.
Now aged 79, Bill Lund said recently that Walt would have been "absolutely appalled" by the current situation and that the family was "broken".
The schism appears to have intensified in 2009 after Michelle Lund had a brain aneurism.
While she was recovering, her father tried to move her from California to a rehabilitation centre in Arizona, but the trustees disagreed.
When she recovered, Michelle appears to have sided with the trustees, and she and her brother have not seen each other since.
In a petition to the court, Brad Lund accuses the three trustees of a breach of trust, demanding payment of his birthday lump sums, the removal of the trustees and punitive damages against them.
His side says he is someone who is "extremely modest in his spending" and "lives well below his means", contrasting this with his sister, who they say bought "numerous multi-million dollar homes" and threw US$50,000 parties.
They claim Michelle has never had a job and spent "lavish amounts" on security guards and chartering private planes.
After her aneurism, the trustees decided she could have her 40th birthday payment because she was "98 per cent back to normal".
But Brad rebuts the claims, saying in his submission to the court that she is "not 98 per cent back to normal and has substantial brain injury".
The trustees have suggested that Brad is not able to manage his share of the fortune because of "chronic cognitive disability".
Neither twin has been diagnosed with the conditions described.
The case starts on Thursday and is expected to last three weeks.