Retirement of long-time presenter Geoff Robinson an opportunity for makeover to bring Morning Report up to speed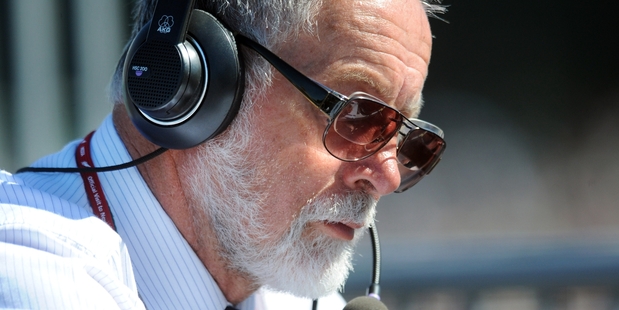 More change is coming to Radio New Zealand, including a significant makeover of Morning Report. Once Geoff Robinson and Sunday morning host Chris Laidlaw have departed, the next big changes at RNZ should be in content - and the most urgent change needed is bringing Morning Report up to speed.
Robinson and Laidlaw will leave respectable legacies at public radio, but their departures are overdue and bookend a period when RNZ resisted change.
The change it did make in 2010 was a mistake, in my opinion.
That was when Simon Mercep replaced Sean Plunket, ending Robinson and Plunket's workable, if tired, "good cop, bad cop" routine. Mercep and Robinson are broadcasting doppelgangers - the two Geoffs.
Some of us abandoned Morning Report because of it.
RNZ insists its ratings have remained strong. But Robinson's replacement will have to provide energy to press forward the day's news agenda in the same way Plunket did, and revive RNZ.
Who could do that?
My sources say the most logical internal candidate is Susie Ferguson, who has worked in Britain for the BBC and ITN and has filled in presenting Morning Report and the evening show Checkpoint.
That show's host (Scary) Mary Wilson is probably wedded to Checkpoint and might be too hard edged for morning radio.
But I'm told there is a wider change going on, based on getting more cohesion between the various RNZ programmes, and making the different time slots relate better with one another.
Geoff Robinson to leave RNZ's Morning Report programme
Radio NZ host Chris Laidlaw steps down after 11 years on air
Big change coming
Who would be the best choice? John Campbell, in my opinion. He is from the liberal side of the fence, but he appeals to a National Radio audience and is a very good interviewer. Campbell and Mercep would be a bit much, but I hear they are considering the whole format.
Ideally, that would happen before Robinson officially leaves in April, and there is some speculation that he will be using up holiday time in February and March after Morning Report returns from summer recess.
2014 is an election year and National Radio and Morning Report have to sort themselves out before they leap into the maelstrom.
Some in RNZ say Morning Report needs to shuffle the content of its first hour, from 6am to 7am, to compete more vigorously with commercial news stations such as NewstalkZB.

Henry in wings
It would be bad for television current affairs if Campbell were to move back to radio, but he is uniquely qualified and has the smarts that come from working in a commercial format.
It's academic, because I doubt he is on the market for a new job, since Campbell Live has been confirmed for another season.
But MediaWorks is a different company than it was and now has Paul Henry on its books.
My sources tell me that Campbell had just seen off a suggestion Henry be placed in the 7pm timeslot, largely because managing director Sussan Turner is (rightly) wary that he can deliver audiences in prime time. That's especially important with Home & Away gone from the 5.30pm timeslot.
Henry is an expensive acquisition for MediaWorks and it is hard to see how it will get enough advertising returns in his 10.30pm timeslot for his new so-called news show to pay its way. Turner is said to be intrigued by TVNZ's Seven Sharp - not by the content, but by its move away from formal current affairs.
The upshot for Campbell and Campbell Live is that despite a strong year in journalism, the threat is not going away.
In my opinion, the chances of Campbell Live being around in three years are slimmer than they were this time last year.
Media love
'Tis the season of lists, when media editors trawl through the past year and catalogue the best, worst and most titillating events of the year. Metro magazine's December issue is the first of many such collections - headlined with the crowning of John Campbell as Aucklander of The Year, "the man who embodies the zeitgeist of the city".
This year, it seems, the epitome of that zeitgeist was the man on the telly.
Another TV3 reporter, Samantha Hayes, was selected as Auckland's sexiest woman, and I'd assume that being in the media was an advantage there, too.
It's Metro's choice - and it is apparent that Campbell fits with the political views of its champagne socialist demographic, but it seems an odd choice nevertheless.
But increasingly, it seems that the media regard other media types as the go-to people, even in politics, where Shane Taurima and Julian Wilcox appear to have been chosen for glory.
The Sunday Star-Times recently featured a large story and photograph of two relatively low profile Wellington TV reporters, TV3's Rachel Tiffen and TVNZ's Michael Parkin.
More recently, the SST ran a front-page promo feature on TVNZ Breakfast presenter Toni Street, and how she prepared for her early start.
Media people, it seems, have become the caste that we love or hate.
I found that to my cost on social media, with an innocuous tweet noting that Geoff Robinson's departure was overdue and would be good for RNZ. I was chided, often by other media figures, for not showing proper respect for Robinson.

Willie and JT
The polarising effect of social media can have negative implications, as it did for Radio Live's Willie Jackson and John Tamihere.
The two screwed up in dealing with an unknown woman who said she knew a victim of the Roast Busters teen sex group, and whom Willie and JT treated poorly.
Unlike other radio hosts who might say outrageous things, they were taken off air. The two were openly abused on social media and it looked like a witch hunt.
The campaign started as open abuse for the Roast Busters, which is perhaps understandable, then open abuse of Willie and JT, then widened to anybody who did not agree that Willie and JT should be thrown off air and were rape apologists or enablers.
The message is clear: be careful what you say.

Greedy musos
There was some kerfuffle this week when Campbell Live included an item about the music industry charges for cafes and shops to play background music - a story that was covered extensively by the Herald a couple of years ago.
What I was not aware of, though, was that the collection agency OneMusic - and songwriters belonging to the Apra organisation that use it - actually charges shops that don't play CDs or MP3s and just have commercial radio on in the background.
They already charge radio stations, but Apra NZ boss Ant Healey rejects a suggestion that the charge for playing the radio is effectively double dipping, saying that the money Apra takes from radio licences does not include broadcast to commercial premises.
Charging a half price flat fee for playing the radio is part of policy to charge where providing music helps a money-making concern.
Which may be true, but it also seems petty.
How many businesses have a radio on in the background? How much money does the creative industry get from taxpayer handouts, with no expectation that they pay it back when they are successful?
And really, how much money does OneMusic have to spend to catch small shops in regional New Zealand with a radio on in the background?
The payout must be minimal after the costs are taken into account. Musos need to take this one one on the chin. Otherwise they just look greedy.