Len Brown says public-private pacts can relieve the financial burden on ratepayers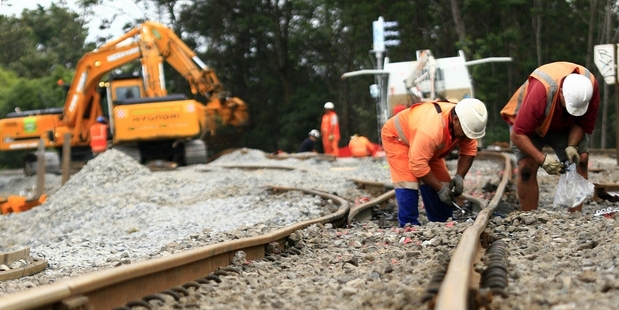 Auckland Mayor Len Brown wants his council to look more to public private partnership models to create new infrastructure, saying it could relieve the financial burden on ratepayers and taxpayers.
Today, he releases a position paper, Building a better working world, prepared by EY (previously Ernst & Young), engaged to look at the potential of PPPs for Auckland Council.
It found the city could benefit from the $3.04 billion City Rail Link being a PPP to spread payments, give access to private sector funding and create a competitive tender process.
The document cited many of the council's commercial functions, from Ports of Auckland and the Wynyard Quarter to sewage treatment and water supply as possible PPPs.
Libraries, building consent processes and Auckland Zoo are far less likely PPP contenders.
Brown said the model could be used across many council areas for big infrastructure jobs. "As the country's largest and fastest-growing city, we have the need for both major investment in infrastructure and finding new, innovative and fiscally responsible ways for this to be delivered."
The council has historically used traditional funding models with elements of risk transfer but no ongoing obligations on the private sector for maintenance or operation, the EY paper said.
Brown has been a strong supporter of PPPs since 2010 when he highlighted the need for this funding model in his mayoral campaign. Now he says the Super City's creation has given Auckland the scale to make PPPs possible at a civic level.
The Government was pursuing more private-sector involvement in infrastructure and services, he said, and the public had a better understanding of PPPs and how they were distinct from privatisation.
"We have a large and growing body of international experience to draw from, many successful, some not so successful. While PPPs seek to take advantage of private-sector expertise and efficiency, a key difference - and a lesson learned early on in the UK's experience - is that in most successful PPP models, ownership is retained by the public sector, while the risk falls to the private sector," Brown said.
The EY paper said PPPs were not privatisation. High-profile government PPPs included the new Hobsonville Pt schools and the new Wiri Prison.
Brown said the EY paper aimed to kick-start a process of looking at options that might work for Auckland.
The EY paper said PPPs had been used extensively in the past 20 years in Europe, Australia, the United States and Canada but it also cited one of the system's biggest failures being Australia's Ararat Prison PPP in Victoria last year when the two builders - St Hilliers and New Zealand's Hawkins Construction - "struggled to meet their obligations under a construction joint venture".
The prison project was now due to be completed under a revised PPP next year, the paper said.

Possible Auckland PPPs
• $3.04b City Rail Link.
• Ferry, bus and rail projects
• $797.1m sewage treatment plant.
• $716.6m Auckland Manukau Eastern Transport Initiative.
• $339.1m Hunua No 4 Water Supply Scheme.
- Source: Mayoral Position Paper