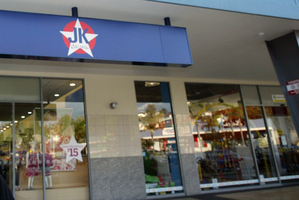 National children's clothing chain JK Kids is closing down, blaming its demise on intense online competition from overseas websites and the global economic downturn.
Owner and managing director Ben Sproat said trading conditions for the retailer, which operates 22 stores in New Zealand plus an online operation, had been difficult for the past two years.
A clearance sale was underway and all of the stores - and the website - would be closed by February, he said.
"We've seen a decline in our retail store sales and we don't believe we're going to see that trend change."
Sproat said JK Kids, which employed around 125 full and part time staff, had decided to "do the responsible thing"and close down before its financial position worsened.
"Discretionary spending in young families is clearly under pressure," Sproat said. "In terms of competition we're seeing quite a big impact from mothers, particularly younger mothers, buying online.
They're able to buy from the UK, the US and many outlets over there are offering freight free if you spend over a certain level."
Many items purchased from overseas websites are also GST-free provided they are valued at less than $400, prompting the New Zealand Retailers Association to call for the consumer tax to be applied to all online purchases, which it says would "level the playing field"for local retailers.
Spending at offshore merchants by New Zealand consumers is growing 10 per cent faster than the growth rate for online purchases from domestic retailers, according to BNZ's latest Online Retail Sales Index.
The index said Kiwis spent $2.7 billion online in the year to September 30, 40 per cent of which went to overseas retailers.
A strong New Zealand dollar, which is trading above US82c this afternoon, has also made foreign websites more attractive for local consumers.
Sproat said JK Kids had also come under pressure from New Zealand online retailers that purchased end of line product overseas, which it then sold to Kiwi consumers at extremely low prices.
JK Kids was established by Sproat and wife Lisa in 1995 when they spotted a gap in the market for affordable, quality kids' clothing.
He said it was disappointing that the business was being closed down.
Economists have predicted a surge in New Zealand's economic growth next year - an OECD report has forecast GDP growth of 3.6 per cent.
But Sproat said he did not expect an uplift in the economy to translate into stronger apparel sales, especially as the online competition would persist.
"I'm pretty sure that in terms of apparel it's going to continue to be a very difficult space."
NZX-listed children's clothing retailer Pumpkin Patch was also hit hard by global financial crisis.
However, the company has improved its financial performance since it closed its stores in the United States and Britain.
Pumpkin Patch reported a 4 per cent lift in sales to $300.6 million in its last financial year, while its adjusted profit rose 16 per cent to $10.1 million in the same period.
High-end fashion label Trelise Cooper announced it was shelving its children's clothing line in 2011, saying the company planned to focus on more profitable areas of the business.