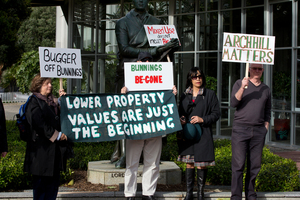 Residents of the Auckland suburb of Arch Hill who are opposed Bunnings store in their neighbourhood are selling T-shirts, movie tickets and have even had a special `war chest' beer brewed to be sold to raise money.
But a leader says no decision has been taken to appeal the Bunnings decision, the community is simply carrying on with active fund raising and needs the money to pay for the battle it lost.
David Batten, Arch Hill Residents Society committee member, said people were actively involved in a range of fundraising but the film and beer were more special one-off events which were seized on.
"We've made no decision,'' he said on predictions the community would lodge an Environment Court appeal with the 15 working days they have after this month's decision.
Last week, Mr Batten estimated opposition to the big new Great North Rd Bunnings would cost around $40,000 and said bills were still coming in for the challenge before independent hearing commissioners headed by Greg Hill.
Money was needed to pay those bills.
T-shirts with the community's name would be sold at Saturday's Grey Lynn festival and residents were being invited to pay $25 each for drinks and a screening of the movie Philomena at Northcote's Bridgeway on December 11, with all the money going to the society.
Arch Hill War Chest Lager, with white and black labels, has been brewed specially by local Andrew Peacocke, to be sold for around $8.50/bottle but in cases of 12 at a selection of retail outlets, Mr Batten said.
The beer had not yet been released but its labels mock planning language, referring to people being able to seize on a mixed-use opportunity and to uphold the amenity value, Mr Batten said.
Residents were yesterday scheduled to meet lawyer Alan Gibb
Bunnings can develop 272-276, 300 & 302 Great North Rd, building a 8430sq m store and 218 car parks on a 7207sq m site bounded by Great North Rd, King St, Bond St and Dean St.