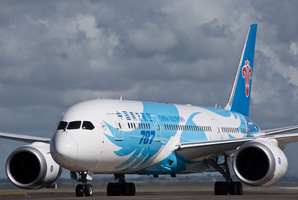 Boeing is alerting airlines about possible engine icing problems on some of its new planes. It is recommending that planes with a specific General Electric engine avoid flying near thunderstorms that might contain ice crystals.
Boeing says it issued the advisory after ice crystal formation in some instances diminished engine performance. Airlines with planes affected include United, Japan Airlines, Lufthansa and Air India. Models affected are the 747-8 and the 787, which Boeing Co. calls the Dreamliner.
Boeing recommended that affected planes fly at least 50 nautical miles (92 kilometers) from thunderstorms that may contain ice crystals.
It's the latest problem to confront the 787. Earlier this year, air safety authorities grounded the 787 after two planes suffered from smoldering batteries. Flights resumed after Boeing redesigned the battery system.
Air New Zealand's Dreamliners will be powered by Rolls-Royce Trent 1000 when they start arriving from the middle of next year.
The engines are unaffected by the ice warning and have been fitted to the first two of Boeing's 787-9 series planes which are now undergoing flight tests before they will be fitted out for Air New Zealand next year.
The airline has 10 of the stretched version of the plane on order.
China Southern Airlines - the first airline to operate scheduled Dreamliner services here - does have GEnx engines on its planes.
It is getting 10 of the first model 8-series planes.
- AP, nzherald.co.nz