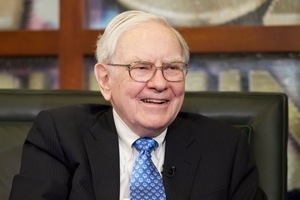 Govt's stepping in helped turn airline into a world leader, says expert

Among the many things Warren Buffett is famous for is his view that airlines are a lousy investment. Just last May, he was at it again.
Speaking at the Berkshire Hathaway annual meeting in the Midwestern city of Omaha, Buffett said investors had been pouring money into airlines and airline manufacturers for 100 years with terrible results.
"It's been a death trap for investors."
But the New Zealand Government has proved the so-called Sage of Omaha wrong, says Rob Mercer head of private wealth research at Forsyth Barr.
"The Government's investment in Air New Zealand has put to rest the outdated statement from Buffett to never invest in airlines," said Mercer, who has followed Air NZ since it listed on the NZX in 1989.
"It's all about creating a sustainable business in a volatile environment where you can manage volatility better than anybody else and create an average return that beats the average cost of capital," he said.
"That's what Air NZ has done," he said. Even during fuel price spikes, it remained profitable while many others were not.
Mercer said the effective re-nationalisation of Air NZ in 2001 had been a "textbook government-private partnership".
"The Government empowered the board and management to run the business. The recapitalisation allowed the board to make a series of changes that led to significant improvements in Air NZ's services and the timely introduction of new aircraft," he said.
The Government's $885 million bailout, which saw the state end up with about three-quarters of the stock, was done at an estimated $1.30 a share. Since then, the company has paid a total of 69c a share in dividends.
Early this week, the Government sold 221 million shares, or about 20 per cent of the company, at $1.65 each, netting it $365 million. The Government has retained a controlling 53 per cent stake.
Mercer estimates the capital gain, and dividend yield equate to an 8.7 per cent annual return. Since December 2004, Air NZ has outperformed the broader market, which has returned an annual 5.3 per cent.
As it turned out, the taxpayer has done okay out of it, Mercer said.
"And it's not the view we took at the time. They took an airline, which was an absolute basket case, and made it one of the leading airlines in the world."
Mercer has not always been a fan of Air NZ, and has issued an occasional sell recommendation on the stock.
The result that sunk the airline was a $1.425 billion operating loss in 2001. The latest result, for the year to June, was a net profit of $182 million, up from $69 million a year earlier. Air NZ shares closed up 6.5c at $1.60.
Air NZ said its group-wide yields, after removing foreign exchange impacts, were up by 1.9 per cent in October compared with the same month last year.
The airline, in its monthly update, said yesterday it had carried 1.06 million passengers during October, up 0.7 per cent on October last year.
Group-wide, the airline's load factor was 82.7 per cent, up 1 percentage point. Short-haul passenger numbers were up by 1.3 per cent.
APNZ