Lightweight units made in China may not need consent, says company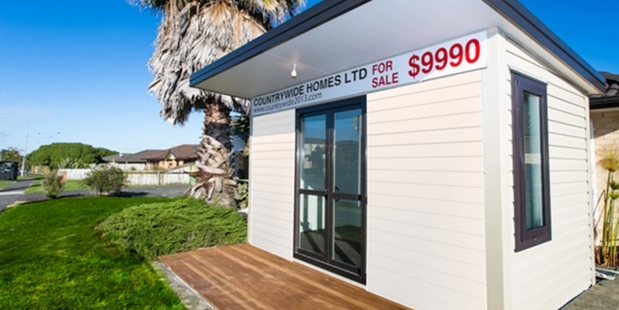 The first $10,000 Chinese-built sleepouts are due to arrive in Auckland before Christmas but demand has already been so strong that the manufacturer and importer has temporarily scaled back promotion.
Graeme Reynolds of Auckland's Countrywide Homes and Dynamic Homes says a purpose-built factory at Jinan is making the lightweight prefabricated sleepouts aimed at easing Auckland's housing squeeze.
A big portion of PVC has replaced heavier materials in a prototype built of fibre-cement, steel and plasterboard.
But Reynolds said a Herald article during the winter headlined "Chinese houses 'cheaper than renting'" caused such strong inquiry levels that he was forced to go quiet because he could not supply the places.
"We've stopped advertising until we get these going," he said of the first shipment due at the Port of Auckland on December 14.
"We've leased a factory and set up our own assembly line. We've trained the workers and there's six people there with a Chinese guy running the show. We've set up from scratch and that's part of the reason it's taken so long." Reynolds said.
He said lightweight materials were being used so a sleepout could be carried by people on to a site with tight access such as a 1.5m gap down the side of a house.
"The barge or fascia is all PVC, replacing coloursteel and instead of lining them in gib board which was painted, these ones will be PVC-lined walls. It's a plastic house, basically.
"It might sound awful but when you come and see them, you'll be amazed. These things are so rigid. They won't blow away and in terms of the Building Code, they're over-engineered," he said.
His scheme comes after a portable cabin business was launched by Auckland landlord Andrew King, franchisee for RoomMate Cabins. Those relocatable places start at $55/week for Auckland and the western areas of the city.
An Econobach smart plan build-your-own 10sqm kitset cabin with a deck is advertised for $6,045 on Trade Me.
Reynolds said his 10sqm sleepouts would cost $500 to deliver flatpack and need no resource or building consents because of their size.
But an Auckland Council spokesperson warned that in some circumstances, such as character zones or rural areas, resource consent was required for any new buildings on a site.
He suggested people speak to the council's duty planner for the area to check before proceeding.
Reynolds said because the 10sq m sleepouts are 2m high, they must be placed 2m from an existing house or a boundary and rest on a flat pre-prepared gravelled or metalled site.
"You don't need to lay a concrete pad," Reynolds said.
Once he and business partner Dewey Yu get production up to speed, they hope to ship a container of six sleepouts a week to Auckland.
"The aim of what we're doing is to provide places at affordable prices," he said.
The sleepouts will have an outdoor power socket, similar to that used for caravans, so a lead could be run out the window of an existing house to provide power to the sleepout.
RoomMate supplies a lead that has a matching outdoor connection at one end and an RCD safety switch at the other.
"This RCD plugs into any ordinary 3-pin power socket in your house or garage," RoomMate says.
The Building Act 2004 says a detached building is allowed without consent but must comply with the building code. It can't be more than one level high, over 10sqm or have any sanitary facilities or facilities for the storage of water. It can contain sleeping accommodation if used in connection with a dwelling, the act says.

Easing the squeeze
• 1-bedroom 10sqm: $10,000
• 1-bedroom 20sqm: $20,000
• 1-bedroom 30sqm: $35,000
• 2-bedroom 40-60sqm: $40,000-$60,000
• Delivery and assembly: $500
- Source: Graeme Reynolds, Countrywide Homes, Auckland