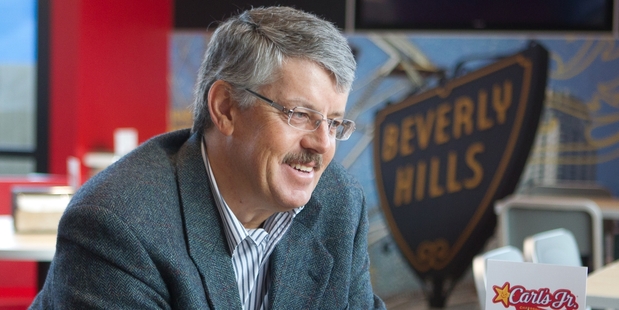 Restaurant Brands boss Russel Creedy has hit out at the criticism fast- food operators sometimes receive when establishing restaurants in low socio-economic areas.
The company opened its eighth Carl's Jr store in Otahuhu this week.
Restaurant Brands - which also operates KFC, Starbucks and Pizza Hut in New Zealand - opened its first Carl's Jr store in Mangere a year ago before establishing additional sites in central Auckland, Palmerston North, Hamilton, Rotorua, Hastings and Auckland Airport.
Forsgren NZ, a separate franchisee part-owned by former All Black Michael Jones, has the rights to open eight Carl's Jr stores in Auckland and already operates six outlets in the city, including those in Glen Innes, Takanini, Henderson and Avondale.
Mangere Budgeting Services chief executive Darryl Evans questioned Restaurant Brands' decision to establish a Carl's Jr store in Mangere when it opened last November, saying the area had high rates of diabetes and needed another takeaway outlet "like a hole in the head".
Derek Battersby, a member of the Whau Local Board in West Auckland, opposed Forsgren NZ's plans to build the Avondale store last year. He said the chain targeted low socio-economic areas and a "fat tax" to discourage consumption of fast food should be introduced.
After hearing of the Otahuhu store opening yesterday, Battersby stood by his claims.
"They are quite clearly targeting these areas."
Creedy said where the company established stores was dictated by the availability of real estate and people who suggested otherwise should "get over themselves".
"If we found a suitable site in the middle of Newmarket we'd open it tomorrow - it's got nothing to do with demographics," he said.
"It's a really bad comment from people who want to hit at anything that's not a lettuce or a carrot."
Restaurant Brands plans to open 65 Carl's Jr stores, which would take another seven years if the company keeps up the same rate of new store openings as it did during its first 12 months of operating the brand.
Creedy said that other than a few teething problems around manufacturing burger patties without binding agents - Restaurant Brands had no prior experience with beef - the company's first year of operating Carl's Jr had gone to plan.
The company's Hamilton Carl's Jr restaurant delivered sales of more than $173,000 in the opening week, which it said was the second best performance for a store opening in the chain's global network of more than 1300 outlets.
"We're seeing a lot of pent-up demand for Carl's Jr," said Creedy, adding that the performance of stores during the first year had proven there was room for another burger chain in the New Zealand market.
He said other local fast-food operators would be worried about the chain's rise.
"All the feedback tells me they are," Creedy said. "Maybe some of them should downsize or close shop and give it to the real operator."
He said the next Carl's Jr store to be opened by Restaurant Brands would be located in Albany and the company was on the lookout for additional sites on the North Shore and Central Auckland.
It will open the South Island's first Carl's Jr store around the middle of next year in Hornby, Christchurch, Creedy said.
Restaurant Brands reported sales of $6.6 million for its Carl's Jr stores in the half-year to the end of September, with an earnings before interest, tax and depreciation loss of $200,000, which it said reflected the impact of opening costs such as staff training.
Creedy said the firm's Carl's Jr outlets were already profitable at an individual store level.
Restaurant Brands shares closed up 4c yesterday at $2.90.