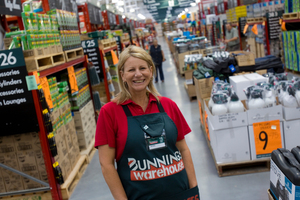 Bunnings' boss has expressed delight about Arch Hill success, after locals tried to stop a big new store rising in the Auckland suburb across the road from small old houses.
Jacqui Coombes, Bunnings chief executive, said the process which had allowed the store to rise was robust.
"We are really pleased that the consent for our new store has been granted after stringent review, initially by Auckland Council and subsequently by a panel of independent commissioners," she said.
Bunnings had taken into account the opinions of local residents and adapted its normal design and some of its operating procedures to suit the locality of the store, she said.
The details of the design had been a big part of its success, she said.
"Once complete, the new store will cover a total area of 8430sq m which will be arranged over three levels.
The two lower levels will provide parking for 218 cars as well as a trade-orientated timber sales area. The main retail offer and garden nursery will be sited on the upper level. The store will also create in the region of 120 new jobs for the local area," she said.
The Arch Hill Residents Association is pondering an Environment Court appeal but already spent $40,000 trying to persuade independent hearing commissioners, led by Greg Hill, to say no.
"Declining consent for this development would have sent a loud and clear message that recognition of existing amenity value and population intensification hand in hand with an integrated transport strategy is the preferred outcome instead of the generation of another 2000 cars and trucks per day travelling into already crowded inner city residential streets," the association said.
"As a community it is only proper that we regroup and consult before any decision to appeal which has to be made within 15 days of the release of this appalling outcome," they said.