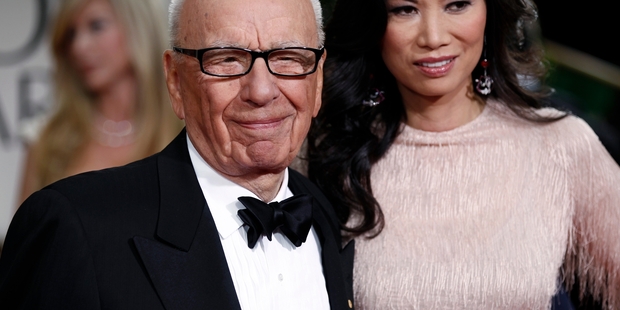 Media baron Rupert Murdoch and his soon-to-be-ex-wife said they were parting with "mutual respect" yesterday after telling a judge they had reached a divorce deal.
The chairman of News Corp and 21st Century Fox and his wife of 14 years, Wendi Deng Murdoch, shook hands and briefly hugged after a brief proceeding in a Manhattan court.
"We are pleased to announce that we have reached an amicable settlement of all matters relating to our divorce," the two said in a statement released through a publicist. "We move forward with mutual respect and a shared interest in the health and happiness of our two daughters."
The terms of the agreement were not disclosed in court, but a person familiar with the settlement said Wendi Deng Murdoch would keep the couple's Beijing house and their apartment on Manhattan's Fifth Ave as a continuing home for her and their children.
Rupert Murdoch would retain properties elsewhere, including an estate in Bel Air, California, said the person, who spoke on condition of anonymity to discuss the personal matters.
The couple's possessions also include a yacht, which is for sale.
The divorce will be final after state Supreme Court Justice Ellen Gesmer signs some yet-to-be-submitted paperwork.
She told the couple she was "glad that you have been able to resolve these matters amicably".
The divorce will end a third marriage for Rupert Murdoch, 82, who got his start in his family's newspaper business in Australia and built a global media conglomerate. Forbes pegged his and his family's wealth at US$13.4 billion ($16.2 billion) in September.
News Corp split this year into two companies: the journalism and publishing portion, still called News Corp, and the more profitable film and TV unit, 21st Century Fox.
Both are publicly traded and based in New York.
The divorce will not affect control of the companies or the succession plan for them. Rupert Murdoch controls them through a family trust that benefits his four children from previous marriages - Prudence, Elisabeth, Lachlan and James. The last three have had active roles in the companies.
Upon Rupert Murdoch's death, all four will have an equal say in what happens to the roughly 38 per cent of voting stock the trust holds in both companies.
He and Wendi Deng Murdoch, 44, have two school-age daughters, Grace and Chloe. They are beneficiaries of 8.7 million non-voting shares being held in a separate trust.
Born in China, Wendi Deng Murdoch is a Yale graduate who worked as a junior executive at News Corp's Hong Kong subsidiary Star TV. She met Murdoch at a 1997 cocktail party.
- AP