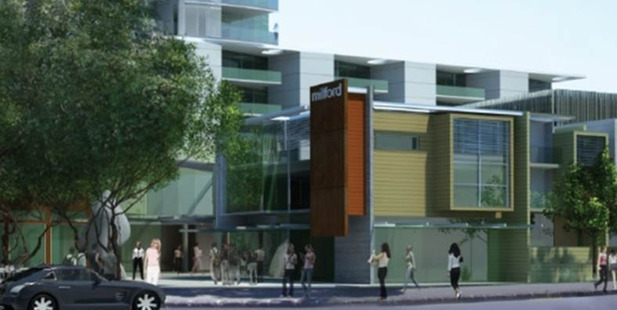 A plan to build apartment towers up to 16 levels high around Milford Mall aims to make profit at the suburb's expense, says a lawyer acting for Auckland Council.
Bill Loutit told the Environment Court yesterday that the plan by Mark Gunton's Milford Centre to build eight, 11 and 16-level towers surrounding the existing North Shore retail centre would be to the area's detriment because of a powerful combination of negative effects, meaning the scheme should be scaled back.
"Milford Centre's driver ... has been to maximise commercial return and views at the community's expense," he told Judge Jeff Smith and commissioners John Illingsworth and Alex Sutherland. "Milford Centre has essentially ignored right from the beginning the local context and the community."
The only way such a big the apartment scheme should be allowed was if the developer agreed to reduce heights, he said.

View Larger Map
Towers of such heights were clearly out of context with the surrounding locality and would result in significant adverse visual and amenity effects including loss of privacy, building dominance and streetscape character effects that cannot be remedied or mitigated, Mr Loutit said.
Expert witnesses for Milford Centre appearing before the court this week had highlighted Auckland's move to a more intensive city, he said, but nothing encouraged intensification at all costs.
The council rejected the plans, sparking Milford Centre's Environment Court challenge but Mr Loutit said parties involved in the hearing largely agreed that Milford town centre was appropriate for intensification.
Kevin Brewer, a consultant urban design specialist appearing for the council, would present evidence that the plan would have unacceptable privacy and dominance effects on the outdoor living courts of dwellings in the vicinity of Omana Rd and Milford Rd, Mr Loutit said.
Milford Centre's plans were prepared without any real regard to the visual and amenity effects would have on surrounding residents.
"Not one Milford Centre witness has attempted real assessments of effects on the residents," Mr Loutit complained.
Nigel McKenna, an expert council witness, says an alternative scheme would be commercially viable, Mr Mr Loutit said, so consideration should be given to a scheme for lesser residential intensification on the site.
The significant benefits of cutting heights to preserve the character and amenity of the environment surrounding the site should outweigh any costs to Milford Centre being unable to profit from fewer apartments or higher floor levels, he said.
On Tuesday, Campbell Barbour, general manager of New Zealand Retail property Group which owns Milford Centre, said the site was ideal for an intensive urban residential development, the towers would be high quality and act as a stimulus to the business community and area.
"I have considered how Milford Centre could best deliver a commercially viable, vibrant and successful mixed-use outcome," he said, telling how the scheme met the urban design, employment generation and general place-building options of the council and the region.
NZ Retail Property Group operates four shopping centres, he said, having developed Westgate in north-west Auckland, Fraser Cove and the Tauriko Business Estate in Tauranga.
The Milford site was one of the few in the area able to accommodate the level of intensive residential development required to fulfil Auckland's growth aspirations, Mr Barbour said.
The case is continuing.
Towering battle
Scheme: 235 apartment towers proposed around Milford Mall
Developer: Milford Centre owned by NZ Retail Property Group
Opponents: Auckland Council and local residents
Forum: Before the Environment Court, Federal St, Auckland.