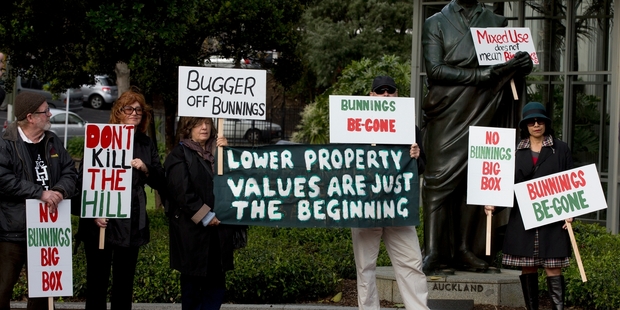 A controversial new Bunnings store on Great North Rd in Grey Lynn, Auckland, has been approved.
Auckland Council hearing commissioners have granted the resource consent with conditions.
The consent application had been considered at hearings in Auckland in October.
Commissioners said in their decision the building's design would be very different from that of a "standard Bunnings warehouse'', and would be limited in the scale of its activity.
Consent conditions would limit the days, hours and number of goods vehicle deliveries as well as the trading hours, restrict vehicle entry and exits and impose noise controls.
The planned Bunnings store on the corner of King St and Great North Rd will operate seven days a week, and will require significant excavation to build the basement carpark.
Fifty-one submissions were received on the proposal, of which 50 were in opposition and one was neutral.
The proposal was opposed by Arch Hill residents, who told the hearings through counsel that they "did not have any expectation that their lifestyles would be subjected to such an intense commercial activity and on such a massive scale operating right on their front door step''.
The decision said the development would "contribute to a diverse and compatible mix of activities and will enable the development of this area as a vibrant urban area''.
It would also improve the surrounding neighbourhood in terms of streetscape, pedestrian amenity and safety, the commissioners said.
The proposal also satisfied the design criteria set out in the district plan.
Parties have 15 working days to file an appeal.
Local residents had objected to the size and scale of the building, the intensity of the activity, the impact of traffic and vehicle deliveries, and increased noise.
A nearby childcare and a kindergarten also raised safety concerns for children who walk, cycle or scooter in the area, and from vehicle emissions.
Bunnings wants to build its store on the site of an empty clothing factory, on Great North Road, Grey Lynn:
- APNZ