Adjoining lots only 10 minutes' drive from Gisborne timber port to be auctioned.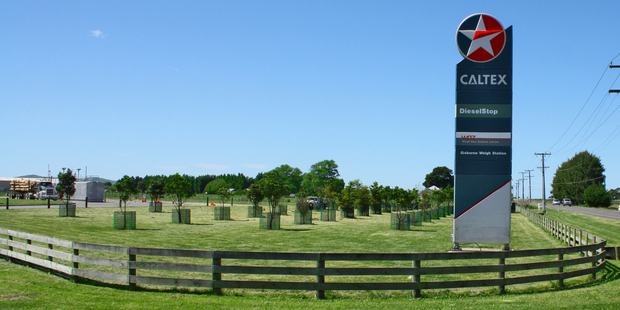 Five adjoining industrial lots in Aerodrome Rd, Matawhero, which were earmarked for streamlined access to Gisborne's port only a 10-minute drive away, are to be auctioned individually next month.
The Rural Industrial A zoned sites west of Gisborne city are the projected location of an independent weighbridge facility that was planned by the owners, Weigh New Zealand, on the back of Gisborne's burgeoning forestry industry, says Colin McNab, of Bayleys Gisborne, who will offer them for sale by auction on December 13.
Gisborne's port is the third-largest exporter of logs on volume in New Zealand but indicators suggest this could double in the next 10 years.
"Weigh New Zealand's original business plan for the weighbridge facility was for an unmanned infrastructural asset that would largely capitalise on the 'wall of wood' heading to the port for export," McNab says.
"However, the weighbridge has not been built, leaving a new owner the option of pursuing a facility to complement existing weighbridge capacity at Eastland Port or to come up with alternative uses."
McNab says Eastland Port does have a split bridge weighbridge facility but a new operation at the Aerodrome Rd site could cater for any overflow as well as being the only public unmanned automated weighbridge in Gisborne.
The Rural Industrial A zoning allows farming, warehousing and other industrial activities but not the construction of residential buildings. In the immediate vicinity the land use is currently predominantly rural including cropping, finishing, horticultural and viticulture. The sites are also close to the airport.
To go under the hammer is Lot 1 of 1.7ha which is occupied by a Caltex diesel refuelling facility leased to Chevron NZ along with the proposed weighbridge site. The remaining four lots are vacant land sites each of 7200sq m which could be further subdivided down into 1000sq m blocks.
A report into the evolving forestry industry in the Eastland region identifies a need for infrastructure to keep pace with growth.
"The parcel of industrial land now up for auction has the potential to contribute to this end, or have other wide-ranging usage options, especially given the recent interest shown in industrial land for sale around Gisborne," says McNab.
The refuelling hub has concrete paved access ways, manoeuvring areas and a hardstand area around the pumps. Chevron owns the above-ground fuel tanks and the pumps associated with their operation.
Aerodrome Rd is sealed, and there is water, sewerage, electricity and phone to the boundary of the properties for sale.
Chevron has a 10-year lease from October 2004, and five, five-year rights of renewal with a final expiry of September 2039. Rent reviews are inherent two-yearly and the current rental is $15,000 plus GST a year.
"The vendors have indicated no non-competition agreement in place with Chevron [Caltex], so in effect, there can be more than one fuel facility sited on Lot 1," says McNab.
In relation to the potential of the sites to service a forestry-related activity, the Eastland Wood Council commissioned a Waikato University study into the significance of forestry as an industry to the Eastland region which showed that forestry now ranks with farming as a contributor to the regional economy.
An estimated 1600 full-time-equivalent jobs stem from the forestry industry and by 2020, one in 10 people in the district is expected to derive a living from forestry.
The study showed the forestry industry was delivering enormous benefit to the region's economy of more than $225 million in direct value, and $383 million in flow-on value each year. Log exports are expected to grow by 60 per cent of around two million tonnes to a potential harvest of 3.2 million tonnes annually by 2020.
What's on offer?
The property: Five Rural Industrial A zoned sites.
Where: Aerodrome Rd, Matawhero, 6km from Gisborne City.
Agency: Bayleys Gisborne.
Method of sale: Auction on December 13.
Features:
*Sites to be auctioned individually.
*Earmarked for streamlined port access.
*Industrial land in demand in Gisborne.
*Forestry exports predicted to double.