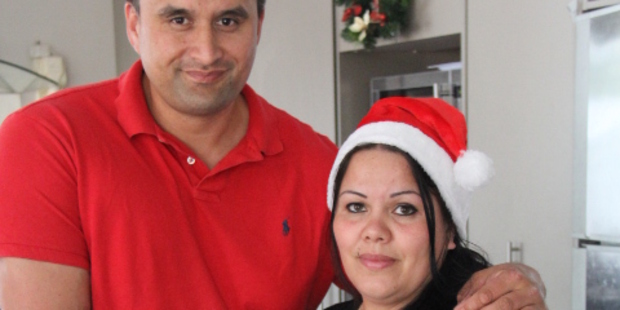 In nine months, the parents of five children, who live in Manurewa, have accumulated 65,000 fans and are said to be the biggest online cooking community in Australasia. And this voluntary idea is turning into a business.
Tell me about "How to feed a family of six for under $20" and why you set it up.
To be honest, we never planned to set up a business. My wife Jas wanted to share a recipe that she had made, that was cheap, yum and that the kids ate.
She created a Facebook page called: "How to Feed a Family of 6 for Under $20," as that was what she'd just done.
We thought maybe we'd help a few mums who had run out of ideas, that we could introduce some home-cooked meals back into some families.
We shop around and look for the best prices on fresh produce, we aim to always add fresh vegetables to every meal, we take our inspiration from what New Zealanders like to eat and try and make it for under $20.
We have no choice to shop on a budget as we are a one income family with five children ourselves.
We do make desserts and sweets on our page but try and keep them as treat meals and limit them to once a week or fortnight.
We also give parents healthy and easy lunch ideas for their school-aged children.
What has the response been?
The response has been overwhelming. To date, we have 65,000 followers on Facebook. Jas has been on the Good Morning Show several times; she has done a food column for a paper in Rotorua for three months called Food with Jas, for free; she has been on the Good Sorts Show on TV One; she has had regular radio slots on two different radio stations and has done voluntary classes for other community groups and in-school cooking education. I have been on NZ Hottest Home Baker and Kiwi Faves cooking my mince 'n cheese pies.
We are finalists for the AMP Do Your Thing National Scholarship and we have just completed our first cookbook, thanks to Penguin Publishing, due out in February 2014. We are now in the planning stages for potential business ventures in the New Year.
How did you come to be doing this?
Neither of us have any formal training but we both, from a young age, have cooked or worked around food.
In recent times we have become quite popular among friends and family with our caramel apples and birthday cakes. We enjoy doing things together.
We have also been through some really tough times and we wanted to make sure we helped people who are going through it now, that we can relate and we are here to help.
I have experience in social media. I'm a videographer for a social media company, which has come in handy as I have built our website, filmed our videos and taken all the photos for our cookbook and Facebook page.
This all came about because where we live, we see our local takeaway shops filled morning, noon and night with school children eating hot chips and drinking cheap sugary drinks. We thought that if we could show people how to make good food for the same price that we might be able to help with some of the terrible health issues a lot of young people are facing.
What do you have planned next?
We are talking to some corporations that have taken an interest in what we do to see how they can assist, or how they can partner with us to reach more people who need us.
We are hoping to be able to give the followers on our page, budget food boxes that will include ingredients and recipes for all meals for seven days, at the best prices. This is an exciting yet daunting dream, but out passion is to get good food, at the best price to everyone who needs it, not just to everyone who can afford it.
How international could this business be?
This business/idea is already on its way to being an International business success as we have over 10,000 followers in Australia and followers from 15 other countries in the world. It's just a matter of building up our community in those countries through out social media platform. It's great that we have started in New Zealand, but it's not where we will be stopping.
What has this experience brought you and Jas?
This experience has brought tremendous satisfaction knowing we have helped so many people get inspired to cook good food and that we have encouraged families to have quality time in the kitchen and at the table.
We get thousands of personal message saying thank you, from young mums who never knew how to cook and are now learning one recipe at time, from solo dads who are cooking dinner now instead of buying it, and from grandparents who are grateful for cheap meals that they can feed the grandchildren in their care, on a pension.
We also have a lot of people on our page that aren't on a tight budget but have ran out of ideas or who are beginners in the kitchen.
My wife hasn't had a rest in nine months and at times we have felt tired, but there are people relying on us and that keeps us going.
What have you learned along the way?
That New Zealand still has a long way to go in making sure that people are educated in basic life skills, that most people, if given the tools, would love to provide nutritional home-cooked meals for their family.
We have learnt a lot about the nature of social media and how to use social media platforms to our advantage.
We have learnt that nothing is impossible. It just takes a lot of hard work and
commitment. Jas and I have done this all voluntarily for nine months, as well as raising a young family, working and giving our time to the media and other organisations and to the followers on our page.
Any tips for others thinking of doing something like this?
If you have a passion and you believe you can do it, then start today, life is too short not to. There are risks in everything you do, but you won't know unless you try. We have no regrets.


Next week: It can be said that NZ game developers punch seriously above their weight, the likes of Sidhe Interactive, SmallWorlds and Ninja Kiwi. I want to hear from more game developers making some major strides here and overseas who are not so well known - yet. I know you are out there, please get in touch.