Sian Leonard, managing director of MMC Tradelink which makes Water Buddies, the children's beverage which is light on sugar.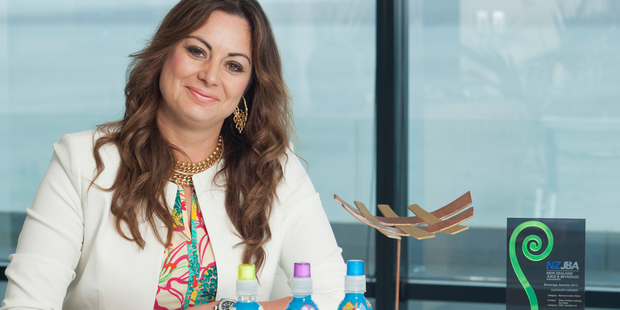 Tell me about your business
MMC Tradelink specialises in the development and "go to market" of innovative niche food and beverage products, such as Water Buddies for the domestic market and for export. Prior to forming my own company in 2011, I worked across multiple roles in sales, marketing, category management and strategy in FMCG and pharmacy.
What did you think the children's beverage market was lacking?
The market is typically dominated by high sugar drinks and fruit juice. Two years ago we spotted an emerging worldwide trend in consumer demand for healthier alternatives so we created Water Buddies to encourage kids to drink more water, reduce their sugar intake and encourage better hydration. Sadly, one in four Kiwi kids are overweight or obese with high sugar consumption and lack of exercise attributed as the biggest cause.
What has the response of the market been?
Amazing, the response from parents has been overwhelming gratitude for creating a range that encourages their kids to drink more water and offers a healthier alternative without having to compromise on taste or "cool" factor.
What do kids say?
Kids love that Water Buddies is fun, interactive and tastes great, even if they don't necessarily know it's good for them. According to our own children the new glow in the dark Lemonade Water Buddie is the talk of playground. Each variant has its own character, story jokes or facts and the bottles have been especially popular for reusing in active play like a game of skittles or imaginative play with arts and crafts.
What do medical experts say? Dr Gillian F. Hawkley, GP and advisor to Water Buddies, says: "Children need plenty of water to keep their bodies and brains working properly and to give them energy for learning and for activities. Children aged four to eight years need roughly 1.2l of fluid per day. Water is the best drink to offer children aged 4-14. Milk is also a good drink for children because it contains energy, protein and many vitamins and minerals.
Pure fruit juice is not recommended for children as it is high in sugar which can cause tooth decay and offers "empty" calories. Soft drinks, especially energy drinks and sports drinks are also not recommended as again they are high in sugar and often contain caffeine which should not be given to children. For active play/sport, water is the ideal form of rehydration. However, a low sugar flavoured drink may be preferable because studies have shown that children often prefer these and so drink more, thereby maintaining better hydration levels."
How have you managed to compete with the big softdrink players in advertising and marketing?
We've directed our focus on creating a new sub-segment of children's flavoured water as opposed to actively competing in the soft drink market. During the research stage it was essential to give kids and parents more reasons to buy water than a soft drink so we put all of our development into creating a fun, bright, interactive bottle shape, yummy flavours, low sugar and now glow in the dark features. We've invested significantly in advertising and marketing across multiple media such as women's, parenting and lifestyle magazines, radio, events, sampling, children's concerts, Facebook and more recently as co-sponsor and guest judge on the award winning kids TV Show, "Lets Get Inventin'. We find the best advertising comes from our fans and advocates.
Do you have other ideas for new products in this area?
Yes. We see the "Buddies" as the platform to spin off into other categories of food and beverage maintaining our position as the healthier alternative for children. We've got more world-leading innovation to come soon so watch this space. Ultimately if we can become the number one children's food and beverage brand, we will have made a positive difference to the overall well-being of our kids.
Have you taken this international?
New Zealand is a brilliant place to launch new products, however we knew we would need to look outside our domestic market quickly to gain volume, efficiencies and first to market status. We launched into Australia in June this year and are now available in over 1200 supermarkets and expanding to triple this in the coming months. Demand is also increasing from the greater Asia region, which, in line with global trends, is driven by consumers wanting healthier choices and looking to New Zealand for our pure spring water and trusted high manufacturing standards.
How has this experience been for you personally?
I feel privileged to work alongside some of the best minds, leaders and innovators in the industry but more than anything it feels good to know we are making some solid traction getting kids drinking more water and making healthier beverage choices.


Next week: It can be said that NZ game developers punch seriously above their weight, the likes of Sidhe Interactive, SmallWorlds and Ninja Kiwi. I want to hear from more game developers making some major strides here and overseas who are not so well known - yet. I know you are out there, please get in touch.