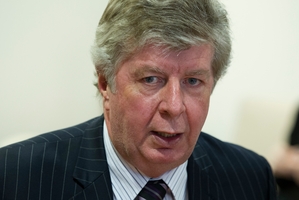 The Government is aiming to streamline the building consent process in a multi-pronged attack on red tape.
Maurice Williamson, Building and Construction Minister, said new measures next year would recognise a single set of rules was inappropriate.
"The aim of these initiatives is to move away from a one-size-fits-all consenting approach to one that reflects the complexity of the work and the competence of those doing it without reducing building quality," Williamson said.
Shane Jones, Labour's building and construction spokesman, has favoured simplified renovation compliance measures and cost-cutting.
His call comes after New Zealand's biggest house builder, G.J. Gardner, revealed a sharp buyer decline after Reserve Bank loan-to-value ratio cooling measures were introduced.
Williamson said significant changes were already in hand.
"There are several initiatives under way to streamline the consenting system," Williamson said.
The Building Amendment No 4 Bill clarified and expanded the type of work that does not need a building consent, Williamson said.
A low-risk building consent was also being established which did not require any inspections due to the nature of the work and on the basis that it is being done by licensed building practitioners.
A simple house building consent was also being established, aiming to reduce the number of plan checks and inspections where the house was designed and built by licensed building practitioners. Both those moves were scheduled to be operating next year, he said.
Consideration was being given to how a group home builder's quality assurance process could be accredited rather than the regulatory system focusing on individual consents. Aspects of that were being piloted with several councils, he said.
Williamson said the process, approved by the Ministry of Business, Innovation and Employment, already standardised building designs.
Councils must accept these as complying with the Building Code, and only then focus on site-specific consent considerations, Williamson said.
Kim Lovegrove, a New Zealander of Lovegrove Solicitors in Melbourne, said he was dismayed at Jones' desire to relax building control, against a backdrop of litany building regulatory failures.
John Gray, the Home Owners & Buyers Association president, called for the adoption of the computerised building consent lodgement service like that operating in Britain.
He also wants to see self-certification by licensed building practitioners for certain types of building work.
But overall, he said consumer protection was vital after the leaky building disaster and buyers of existing houses needed to know what they were buying.
"For the sake of subsequent owners it's imperative there is a strong regulatory framework around building activity that has a potential impact on the performance, durability and safety of the homes in which we live," Gray said.

New leads
G J Gardner's Rodney office inquiries*:
• June - 101
• July - 95
• August - 106
• September - 63
• October - 76
• November - estimate 50 in total
(*Had first meeting, name and details given, agreed to follow-up)
- Source: G J Gardner