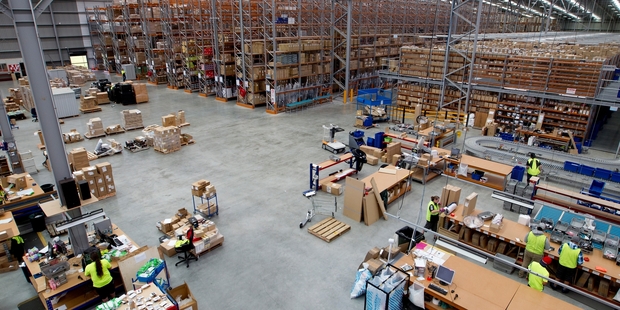 Torpedo7's new distribution centre wouldn't look out of place if it had been built in East Tamaki or another industrial area of Auckland. But in the context of its location, the building seems almost otherwordly.
The 14,000sq m, jet-black facility rises out of the green pastures at Tamahere, on the outskirts Hamilton.
One of New Zealand's fastest-growing online retailers - which became 51 per cent owned by The Warehouse Group earlier this year - is busily plying its trade in the middle of the dairy heartland.
Inside, workers decked out in reflector vests are packaging up and dispatching orders to the online sportsgear retailer's customers on both sides of the Tasman.
Behind them rises row upon row of shelving, stacked high with the various wares available on Torpedo7 such as bicycles, bike parts and other sports equipment.
"Online is changing the world," says Mark Powell, chief executive of The Warehouse Group, as he leads a tour through the distribution centre. "It's taking down borders."
Torpedo7, which reported sales of $19.2 million for the three months to October 27, is on the front line of his company's push to grow its online presence and become a multichannel retail group.
In March, New Zealand's biggest listed retail company announced it had paid $33 million for its stake in the online retailer, which was founded in 2004 by Luke Howard-Willis and also operates the 1-Day daily deal and Urban Daddy (footwear) websites in Australia and New Zealand.
Torpedo7 was one of eight buy-ins The Warehouse Group has made in the past year.
That includes its $65 million purchase of electronics retail chain Noel Leeming in December and the more recent purchases of a 50 per cent stake in Shop HQ - the online retail business launched by GrabOne founder Shane Bradley that operates pet.co.nz - and its acquisition of gym equipment retailer No1 Fitness.
Forty per cent of the orders dispatched from Tamahere cross the Tasman and Powell says Torpedo7 provides The Warehouse Group with valuable exposure to Australia, a market it has failed to crack in the past.
In 2000, the company spent A$105 million ($118.3 million) acquiring 155 stores and six distribution centres across the Ditch, but by 2004 its Australian operation had accumulated losses of $50 million and the plug was pulled on the ill-fated project in 2005.
"This is different," Powell says, referring to the new online push into Australia. "It's less risk."
Competition from overseas online retailers, such as Amazon, is a challenge for local businesses like The Warehouse, especially given the fact many purchases from foreign websites are exempt from GST, provided they are valued at less than $400.
In the year to the end of September, New Zealanders spent $2.7 billion online, 40 per cent of which went to overseas retailers, according to BNZ's Online Retail Sales Index.
Powell, however, says Torpedo7 can take advantage of the tax situation in Australia, where online purchases under A$1000 from overseas websites - including those based in New Zealand - are GST-exempt.
The Warehouse Group has also launched a new fragrance and cosmetics products website, ilovebeauty.co.nz, which also operates physical kiosks in three New Zealand shopping malls and will launch an Australian website this month.
Another online business recently launched by the company, knucklebone.co.nz, offers a different, discounted outdoor clothing or equipment product every 20 minutes.
"We've got our mojo back," says Andrew Buxton, Warehouse chief executive of multichannel.
He says the multichannel approach offers a more flexible and less risky way to expand the group into new areas of retail.
"The venture into Australia and the [failed] venture into groceries were very big changes with a lot of money tied up in them, whereas what's great about multichannel is the capital you need to get these things off the ground is nowhere near the capital needed to buy a retail chain in Australia," Buxton says.
So does Powell think the changes and strategy introduced since he took the group's helm in 2011 are coming to fruition?
"I think I'll say yes and no," Powell says. "There's a lot to do and it's early days. We're in the process of reshaping a business."
The firm, founded on the North Shore by Sir Stephen Tindall in 1982, has no shortage of lofty goals, such as becoming a "100-year company" with a more diversified sales profile.
It wants to grow the non-red parts of the business, such as Torpedo7 and Noel Leeming, to be the same size as the Red Sheds, which reported sales of $1.6 billion in the last financial year.
Powell admits the current strategy does not come without risks and there are "no guarantees".
The "switching cost" for customers is very low, he adds. "You disappoint them three times and they probably won't come back."
Powell also says the Red Sheds face the added challenge of systemic decline in major catagories like DVDs, CDs and books, which are being rapidly digitised.
Then there's the economic risks the company has no control over.
"The last thing you want is a major downturn in agriculture or dairy in New Zealand - that would affect us," Powell says. "And then there's the worldwide economy."
He says the company is starting to see financial results from the Red Sheds' $180 million store refit programme.
The 28 stores that were refurbished in the last financial year reported sales growth 3 percentage points higher than non-refitted stores, he says.
The Warehouse Group posted full-year sales of $2.24 billion in its last financial year, an almost 30 per cent increase on the prior period, although that included the contribution of businesses not owned in the previous year, such as Noel Leeming.
The group's adjusted net profit rose 13.1 per cent to $73.7 million.
Yet some market players are yet to be convinced the retailer is on the right track. "They have adopted a scatter gun approach which has an uncertain return profile," says Paul Harrison, managing director of Salt Funds Management.
He says the refitted Red Sheds need to be reporting much higher sales growth.
Restaurant Brands - which operates fast food businesses including KFC and Carl's Jr in New Zealand - reported sales increases of up to 20 per cent at its refitted stores, Harrison says.
"I haven't seen anything that would give me confidence they've really solved the issues in the Red Sheds."
Shares in The Warehouse Group, which have gained almost 30 per cent in the last 12 months, closed down 4c yesterday at $3.96.