Wall Street advanced, pushing both the Dow Jones Industrial Average and the Standard & Poor's 500 Index to fresh record highs, amid signs Federal Reserve Chairman Ben Bernanke's nominated successor, Vice Chairman Janet Yellen, supports ongoing stimulus.
"A strong recovery will ultimately enable the Fed to reduce its monetary accommodation and reliance on unconventional policy tools such as asset purchases," Yellen told the Senate Banking Committee in Washington. "I believe that supporting the recovery today is the surest path to returning to a more normal approach to monetary policy."
"It's important not to remove support, especially when the recovery is fragile and the tools available to monetary policy, should the economy falter, are limited given that short-term interest rates are at zero," she said.
Yellen stands by Fed low rates policies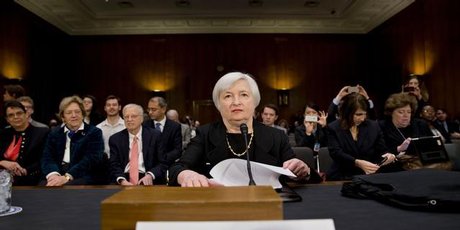 In afternoon trading in New York, the Dow gained 0.25 per cent, while the S&P 500 advanced 0.32 per cent. Earlier in the session the Dow hit a record high 15,879.72, while the S&P 500 climbed to an unprecedented 1,790.80.
The Nasdaq Composite Index slipped 0.06 per cent, reflecting a sharp drop in the shares of Cisco after its quarterly sales missed expectations.
"I think it's becoming quite clear that Vice Chair Yellen will be continuing with an accommodative stance for some time ... markets are breathing a little bit of a sigh of relief," Ryan Larson, head of equity trading at RBC Global Asset Management, told Reuters.
The latest jobs data showed that the number of Americans filing new claims for unemployment benefits declined 2,000 to a seasonally adjusted 339,000 in the week ended November 9. Claims for the prior week were revised to 341,000, which was 5,000 more than previously reported.
The US trade deficit widened more than expected, rising 8 per cent to US$41.8 billion in September.
"It's an indication that domestic demand is still picking up with the increase in imports," Tim Quinlan, an economist at Wells Fargo Securities in Charlotte, North Carolina, told Bloomberg News. "Our expectation going forward would be that, for the first time in a long time, trade will be one of the things that's helping to underpin economic growth in the United States."
The latest earnings from the big US retailers disappointed.
Shares of Wal-Mart were little changed, after earlier falling as low as US$77.68, after its quarterly sales fell short of the mark and the company downgraded its annual profit forecast.
"Lowering prices no longer drives an offsetting increase in traffic which has been the lifeblood of Wal-Mart," Ken Murphy, a senior vice president at Standard Life Investments, told Reuters.
Shares of Kohl's also dropped, last 7.4 per cent lower, after the department store chain posted quarterly results that failed to meet expectations.
In Europe, the Stoxx 600 Index climbed 0.8 per cent. The UK's FTSE 100 Index added 0.5 per cent, while France's CAC 40 rose 1 per cent and Germany's DAX increased 1.1 per cent.
Yellen's comments helped offset more dismal EU data. The euro-zone's GPD expanded by 0.1 per cent in the third quarter, slowing from 0.3 per cent in the second quarter, according to European Union data released today.
"The bleak GDP estimate shows just how fragile and hesitant the euro-zone's recovery is-so much so that it's questionable whether current economic conditions even qualify as a recovery," Nicholas Spiro, managing director of Spiro Sovereign Strategy in London, told Bloomberg News. "While the slowdown extends to Germany, it's the dire state of the French and Italian economies that looms large."