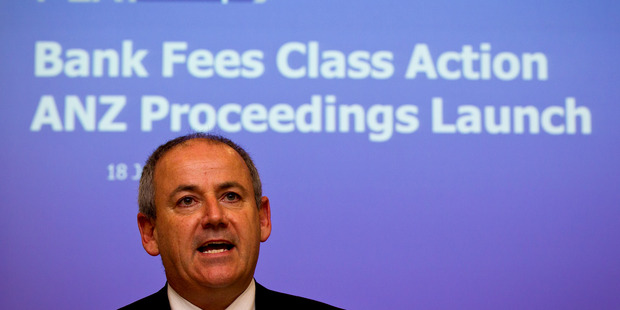 Kiwibank is the next bank to face a lawsuit over charging allegedly unfair fees.
The government-owned bank was today named as the next target by the Fair Play on Fees group fronted by Auckland lawyer Andrew Hooker.
Kiwibank customers have until 11pm on Thursday November 21 to register to join the lawsuit. Hooker said some 6000 Kiwibank customers had already registered.
Kiwibank is the second bank to be named alongside the ANZ as a target for the lawsuit.
Kiwibank was picked as the next target for a legal claim over fees because of the high proportion of its customers who have already registered and level of unhappiness expressed by those who have come forward, says the lawyer fronting the action.
Auckland solicitor Andrew Hooker said it had already had 6000 Kiwibank customers register since it launched the Fair Play on Fees Campaign in March this year and that number could double by the time it files the action.
Hooker said compared to its customer numbers Kiwibank had a high proportion of those who had registered to join the court action.
Comments received from Kiwibank customers also revealed a high level of unhappiness, he said.
"Some of the comments people were making...they were really annoyed."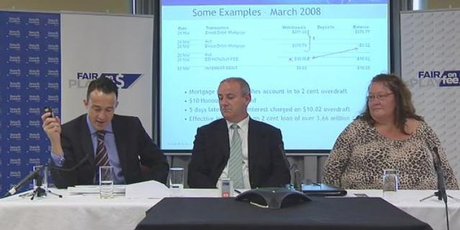 Hooker said many had switched their accounts to Kiwibank to support the New Zealand-owned bank. "They thought that Kiwibank was going to save them from fees."
Hooker said there was a perception that Kiwibank was different and had been set up to take on the Australian-owned banks.
But instead it "seemed to be mimicking" the Australian-owned banks, he said.
Aucklander Leanne Briggs, who along with her husband Sydney, is the lead plaintiff in the case against Kiwibank said she had set up a joint account at Kiwibank six and a half years ago to "give them a go."
Over that time the couple were hit with 100 default fees totaling almost $2000. She quit the bank last year to return to ASB.
"It was just getting out of hand." Briggs who was charged a $10 default fee when her account went into overdraft by 2c after a mortgage payment came out, said it got so bad she couldn't tell her husband.
"I felt like I couldn't keep up with it."
Briggs said when she asked the bank if she could have an overdraft it told her that was only possible if she switched her mortgage to them.
A spokesman for Kiwibank said it had no comment to make on the case.
Last month the High Court gave ANZ/ National Bank customers until December 13 to sign up to a lawsuit against the bank over fees.
Fair Play on Fees lawyer Andrew Hooker lodged documents against the ANZ - New Zealand's largest bank - in June this year.
The case against the bank alleges that default fees charged by the bank in situations such as unarranged overdrafts, bounced cheques and late and over-limit credit card fees are "unenforceable penalties" and should be paid back to customers.
"The reason that an unarranged overdraft fee on a deposit account is unfair is the same reason that a credit card late payment fee is unfair - these fees are set far above what it actually costs the bank to manage the default that arises," said Hooker.
The next administrative hearing is expected to occur on November 28. A court date for the trial is expected to be set early next year.
Hooker said that other banks - BNZ, Westpac and ASB would be sued, but a decision on who would be next had yet to be made. He expected to name the next target before Christmas.