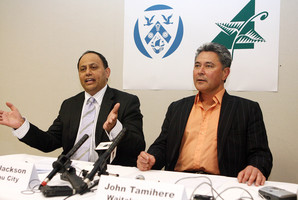 RadioLive has paid dearly for mishandling its coverage of the Roastbusters scandal.
Management's hands-off approach has led to the shelving and - in my opinion - the likely axing of the Willie and JT Show.
The two Maori politicians are the self promoted naughty boys of radio and are confident - no question about that.
Like Paul Henry they fancy themselves as being able to say the unsayable.
But as one advertiser told me, their on-air treatment of an 18-year-old woman whose friend was a Roast Busters victim was a "vile" radio interview.
It might have gone unnoticed if RadioLive had not placed it online and put the pair in front of another audience - one vociferously opposed to the notion that there was an alternative view.
The word was spread on social media with bloggers who were infuriated by the line of questioning and who specifically told advertisers it was unacceptable.
Willie & JT are all opinion and lack the skills of experienced commercial broadcasters to change with the topic and deal with people with respect.
One RadioLive insider said that they were once well prepared with plenty of research.
But more recently they've had a passion for talking off the cuff to an imagined smoko room audience that mirrors their opinions.
It has worked for RadioLive before and - despite controversy over JT's attacks on gays - the company seems to have gotten used to the idea that they can be left to their own devices.
Did management have any say in the appalling half hearted and self-regarding apology for the interview?
They should have been suspended after that.
Done right, RadioLive could have got beyond the objectionable handling of the interview.
It could have set a new course by challenging the view - common on social media - that people associated with Roast Busters have been proven guilty before having been charged.
It appears that having first left Willie & JT to their own course, after pressure from advertisers, RadioLive have hung their hosts out to dry.
A good broadcaster could have rescued this situation and taken control of the emerging mess.
By staying disengaged they left social media to drive advertisers to action.
Many will argue that is justified in this case, and some bloggers will be celebrating the death of the Willie & JT show.
By Friday it seemed controversy was slowing down.
And bizarrely - given that advertisers had run for cover, boycotting the station rather than being associated with Willie & JT - TV3 was running house ads for RadioLive featuring the duo.
But today they've gone beyond the pale.
This might be a worry if you were Paul Henry planning a new foray into satire on TV3 next year.