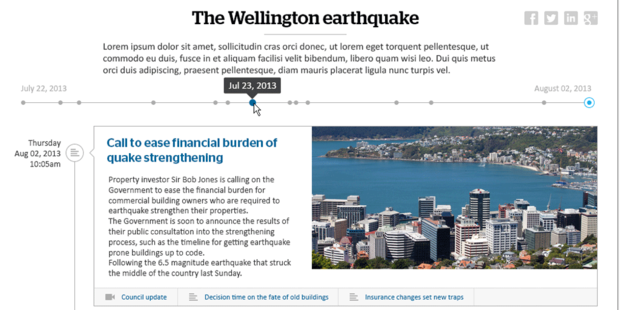 The New Zealand Herald celebrates its 150th birthday this week and today we are unveiling some new developments across the Herald Online.

The driving force behind these developments has been to provide more indepth coverage and improve the experience for our users across the site.
New article page design
With our new article page design you will find clearer signposts to associated features and content as well as more embedded content such as images, video, audio, infographics and maps.
The sidebar on the right hand column of the article page has been redesigned to include display boxes which are personalised depending on where you have entered the site from - eg delivering you more relevant content if you are searching for a particular topic.
New image galleries
We are placing a bigger focus on image galleries. Users can opt for a full screen mode for any gallery. Full screen image galleries now feature responsive image gallery on a darker background, a better display of captions and sharing ability.
Author profiles
We have also begun rolling out new author profile pages for some of our key columnists and reporters. This allows users to view more by their favourite columnists and reporters, check out their biography and connect with them via social media.
Timelines
One of the key features of the redesign is a new 'content timeline', or Story Arc. This links curated articles, video and images with enhanced navigation and design. This allows you to follow a story as it unfolds, or get the full picture on anything you may have missed during a major event.
Comments
We are bringing more social interaction to the Herald with an improved display, design and features for reader comments.
The existing comments box on our Opinion pages has been enhanced to incorporate the following functionality: a checkbox which allows readers to post their comments simultaneously on Facebook and a microphone plugin for auto typing through voice control. We are also improving the display and design of how comments appear on the article page.
Your feedback
This is the beginning of some exciting developments on our award-winning website. We welcome your feedback on the changes. Send us your thoughts via email or let us know what you think via our Twitter or Facebook pages.