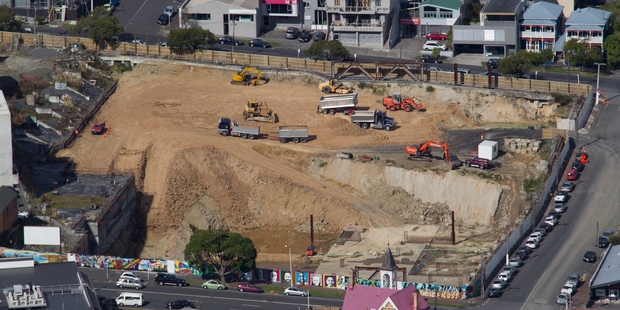 Work starts today on one of Auckland's most controversial sites, as a supermarket giant begins transforming the chasm of Ponsonby's Soho Square into a shopping, office and apartment precinct.
Progressive Enterprises' property general manager, Adrian Walker, said work was beginning on the 1.3ha site on the corner of Pollen St and Williamson Ave to build a new Countdown and create the retail and business precinct.
The project would be one of the biggest in Auckland, with a total investment of more than $200 million of which half would come from Progressive, he said.
The project is called Vinegar Lane as a tribute to the old DYC vinegar factory that once stood on the site.
A 4200sq m Countdown, shops, office space and 680 carparks will be built on the fenced site which has stood vacant since it was excavated by over-ambitious developer Layne Kells in 2008.
Now, 24,000cu m of soil has been returned to the heavily excavated site which had too much land for Progressive.
So Progressive's development manager, Brady Nixon, developed a scheme for a mixed-use community on the land and 31 development sites were pre-sold for between $285,000 and $1.4 million.
Apartments and commercial premises will be built on the site, designed by some of New Zealand's top architects.
Walker said Progressive had worked hard to ensure the developments' design fitted into Ponsonby.
Vuksich & Borich is doing the site works and subdivision and work on the main Cider Building would start in the first quarter of next year, he said.