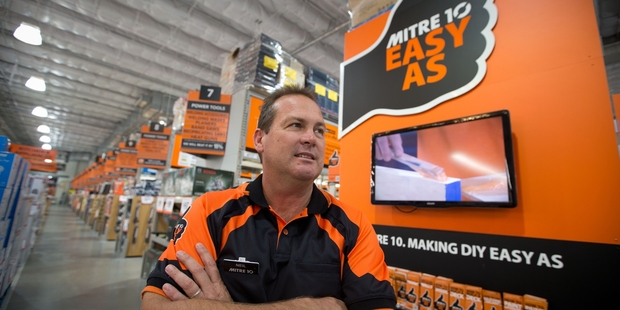 Painting wallpaper at his Sydney house, then watching in horror as it rolled smoothly off the wall with the weight of the liquid, was Neil Cowie's worst DIY experience.
"I thought I was quite smart one day when I was younger and I tried to paint the wallpaper, but it started to peel. I knew the wall behind wasn't that flash," says the new Mitre 10 chief executive from offices above the Albany Mega store on the North Shore.
"All Kiwi blokes are DIYers, aren't they? I do anything I can. Last weekend I put up a brand new post box and painted my front fence," he says of his new $119 metal box replacing a leaker.
Three weeks ago, the former chief executive of clothing chain Pumpkin Patch got out his toolbox to lead one of the country's fastest-growing chains, which a spokesman said got more than 1.5 million customer visits a month in the past year.
Mitre 10 will "punch through" the $1 billion annual sales revenue mark for the year to June 2014 after sales in the past year were in the $900 million range, says the migrant from South Africa.
Compulsory military conscription saw him serve two years in the South African Army.
"As a young man growing up experience, it taught you a lot of things - discipline, focus. But I'm not an FBI agent and I'm not a CIA agent and there's no story there. Can I get that across right now?" he jokes, referring to the former Mitre 10 chief executive, American special agent John Hartmann, who was praised by chairman Martin Dippie for setting up the chain for expansion.
As for the high cost of building materials and the Government complaining that Kiwis are being forced to pay 30 per cent more than in Australia, Cowie says Mitre 10's response is likely to be part of a wider industry submission.
"We are a distributor and a part of the Building Industry Federation, and as a group we will work with them and decide if we will be putting forward a submission."
He disagrees with claims that charges for two specific products - timber and paving materials - are exorbitant.
"We're retailers so we buy and we sell, and at the end of the day we make a reasonable margin on the way through. Some products make more than others. We're certainly not making a lot of money out of timber and pavers because it's highly competitive on the retail side," Cowie says.
"The green shirts [rival Bunnings] are a competitor of ours and we know they're formidable, but as a New Zealand retailer we hold our own. We'll do what we can do to look after Kiwis and we're a very successful business," he says.
"We take pride in looking after our communities and we engage with our communities," Cowie says of the New Zealand-owned co-operative. He's referring to waiting lists for Mitre 10 sausage sizzle fund-raisers, this weekend's Mitre 10 Megawalk from Hastings to Napier as a CanTeen Hawkes Bay fundraiser and Neurological Foundation funding, all examples of the company's extensive community contribution.
As for product lines, outdoor garden furniture has been a runaway success, Cowie indicates, citing double-digit annual growth in sales revenue, but paint and the garden sector are hugely popular too.
"Our Mega garden centres are the number one in New Zealand in terms of market share. One of our key focus areas is trade, and it's been growing. We see that as a significant area in the future. It's a very specialised part of our business and there's an opportunity to grow."
Mitre 10 plans big digital platform investment and Cowie referred to a new mobile application, launched a few weeks ago, which had 30,000 visitors last weekend. There are also about 1000 weekly website feedbacks from customers.
Mitre 10 employs about 4000 people at 83 stores, including 35 Megas. New stores will open in Taupo on November 22 and in Porirua during December.
New product lines are to be increased, such as the wall art imported from Britain selling for $20 to $40 at the just-opened New Lynn store.
"We've introduced a trial with house lots of carpet, a measure and quote [service]. We've always sold flooring like tiles but not carpet in house lots. We've formed a relationship with a carpet company."
As for his Sydney DIY accident, Cowie says it could have been easily avoided, if only he'd had Mitre 10's Easy As guides which take the guesswork out of home improvement.