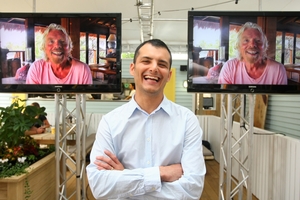 Technology entrepreneur Derek Handley and a small New Zealand fund he set up are among the winners as Twitter's share price soars on its market debut.
Handley, the entrepreneur behind mobile marketing business The Hyperfactory and more recently NZAX-listed Snakk Media, started a fund in 2011 to enable private and Kiwi investors to get access to companies such as Facebook and Twitter before they were on track to be in the public market.
Handley said the fund, called Iliad, backed the social networks a few years ago "knowing that obviously they were on the path" to do something like Twitter did yesterday.
Handley said Iliad was small and had under 20 investors who were "just local people with an appetite for this type of opportunity which isn't really available in New Zealand".
He said he couldn't disclose how many Twitter shares the fund held. "That's confidential."
The 35-year-old said it was great to have more local technology companies like Xero, GeoOp and Snakk for New Zealand investors to back.
"But there's probably an opportunity beyond that for the average investor to have access to the next Twitter and the next Facebook and the next [electric vehicle company] Tesla. There's a broad spectrum of companies when you look out into the world that I think would be super exciting for Kiwis."
Handley said the Iliad fund had been "a prototype to start with" and it could be expanded so it was more accessible to other investors but there were no concrete plans on how this would happen.
"With today's IPO and also where Facebook is at now, I think the partners and myself would say that this is working and let's sit and look at it and is there a way for the next phase of it to make it something a lot more people can be a part of. Which I think will be really exciting." he said.
"If there's any way you could have the Kiwi punter to become a part of [a company like] Twitter long before its listing, then that's something that's interesting [to explore]."