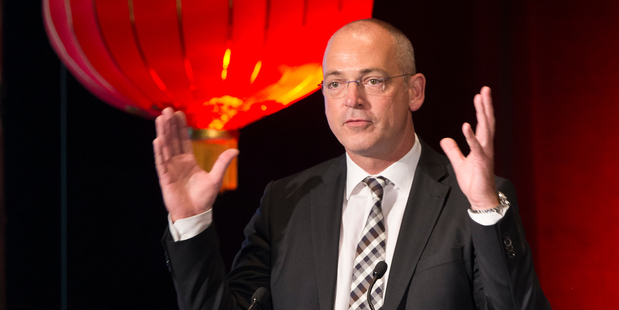 Fonterra chief executive Theo Spierings says the company is "eight to 10 years" behind other dairy players overseas when it comes to sustainability.
Addressing the Trans Tasman Business Circle Luncheon in Auckland this afternoon, he said he was "a little bit disappointed" that Fonterra was so far "behind the pack".
"In Europe we started to think about all of these things in 2003 and 2004," Spierings said. "But if we want to grow [dairy] in New Zealand we cannot grow the way we grew in the last 10 years, because we will hit the wall in terms of the environment and sustainability. We have to get our act together. That's why we're fencing off all the waterways."
Spierings said Fonterra had numerous sustainability projects in the past, but they weren't directly linked to the co-op's strategy.
"When I say we're 10 years behind ... we did a lot of things but there was no connection with strategy," he said. "If you take the annual report of two years ago there was nothing ...
hardly anything on sustainability."
Fonterra's latest annual report was the first from the company to have an "extensive section" on sustainability, Spierings said.
Federated Farmers president Bruce Wills said he was "a bit surprised" by Spierings' comments, but if the co-op was lagging so far behind those in other countries it was important the company learned from its counterparts overseas.
"It's fair to say that during the mid-to-late 2000s we went through that very fast transition from predominantly livestock farming to dairy," Wills said. "I think the dairy boom got slightly ahead of where the environmental responsibility should have been."
He said the agricultural sector was working hard to "get things back to a more sustainable, long-term balance".
Wills pointed out that the Clean Streams Accord - an agreement between Fonterra, the Government and regional councils - was signed 10 years ago.
"Earlier this year we went to Parliament and launched its replacement, the Sustainable Dairy Accord," he said. "That's all about stopping stock access to waterways ... and some pretty sophisticated regimes around the effluent ponds and how they are managed."
Spierings also told the luncheon that Fonterra's Milk for Schools programme was not just about corporate responsibility.
"Milk for Schools, people think it's kind of giving back to New Zealand - it's not," he said.
Spierings said it was a "worrying trend" that 27 per cent of Kiwi children were not having any milk before lunch.
"Those 27 per cent, if that remains to be the case, I don't think they will be milk consumers when they are 20," he said. "So [Milk for Schools] is an investment ... to make sure that you still have consumers 10 years from now."