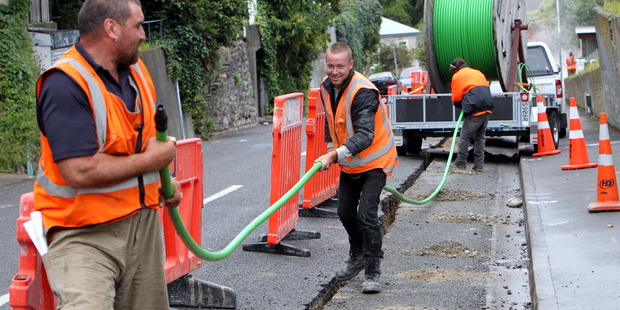 Chorus says it will be as "transparent as it can" with the Government-commissioned firm assessing its finances as its shares dropped another further 10 per cent in early trading.
The infrastructure company, however, said appropriate arrangements "including confidentiality undertakings" will need to be put in place to make sure it meets its listing requirements with the NZX.
"We will be as transparent as we can in our engagements with your independent adviser. As a listed company we will need to ensure that appropriate arrangements (including confidentiality undertakings) are put in place to ensure compliance with listing rules and securities laws. As standard commercial practice we will also need to understand the conflicts position of your independent adviser. We are happy to work with your officials on setting up appropriate arrangements," Chorus said in a letter to ICT Minister Amy Adams.
Chorus' share price took another hammering yesterday, falling 21.5c to close at $2.10 - the lowest since the company listed in 2011. In early trading this morning, Chorus share price was down to $1.87 or 10.95 per cent.
More than $200 million has been wiped off the company's value since the Commerce Commission announced cuts to broadband prices on Tuesday.
Read the full Commerce Commission report here.
The third day of Chorus' tumbling share price came as the Government announced it would commission an independent review of the company's financial position and its ability to deliver ultra-fast broadband (UFB).
The commission on Tuesday made a 23 per cent cut to what Chorus charges internet retailers such as Orcon or Vodafone for monthly broadband services and line access over its copper network.
While Tuesday's cut was not as severe as the almost 28 per cent price drop the regulator tabled in a draft decision last year, Chorus said the move would hit its earnings before interest, tax, depreciation and amortisation (ebitda) by $142 million each year. Chorus claimed the decision would lead to a $1 billion funding shortfall.
Chief executive Mark Ratcliffe said it meant Chorus "simply will not be able to borrow the sums of money we need to make up to a $3 billion investment in UFB".
Before Tuesday, the Government had proposed intervening in the market and setting copper prices directly. In announcing the review yesterday, Adams said the Government and the wider public needed a "very clear steer" on whether the price cut put the "rollout of UFB at jeopardy".
"UFB is something that New Zealand wants, it's something critically important to our future and if this is going to jeopardise it then we need to have a very clear debate around whether the difference between a potential $10 or $5 drop in the copper price is worth putting that at risk."
A group opposing the Government's proposed intervention, the Coalition for Fair internet Pricing, said the review of Chorus' financial position was "a very positive step in the right direction".
Adams said the question the Government was asking in the review was whether, based on the commission's copper prices, it was realistic that Chorus was going to be able to fulfil its contractual obligations to build UFB and the rural broadband initiative.
"That's not about saying, 'Can Chorus carry on business as usual without making any internal change?', it's are they able, within the options available to them and in terms of their internal structuring, able to complete their contractual obligations at those prices? If the answer to that is yes, they are, then I suggest the issue ends at that point."
Adams said the Government had not yet selected the firm to conduct the review but it would need to find one that was "clearly independent from all the parties" involved in this issue.
She hoped the review, which will be released publicly, would be finished by the end of the year.
Editorial: Govt must bite the bullet on copper pricing
CallPlus takes Govt to court in broadband challenge
Broadband blow-up: Six burning questions